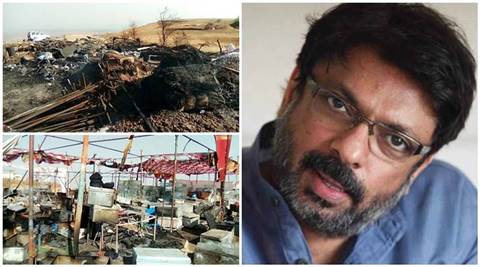 A bad precedent in the making as Rajasthan minister wants Karni Sena to censor Padmavati
Not just the CBFC, but apparently Karni Sena shall also have the honor of censoring Padmavati upon its completion. On the day when the Padmavati movie set near Kolhapur was vandalised with petrol bombs, Rajasthan's Social Justice and Empowerment Minister Arun Chaturvedi said that the film would be screened before a committee of the Shri Rashtriya Rajput Karni Sena (SRRKS) "and other knowledgeable members of society" and their "objections would be invited" before its release in the state. Considering the October 2016 precedent of Maharashtra CM Devendra Fadnavis when he too invited Raj Thackeray to his office to hear out and settle his party's objections to Karan Johar's Ae Dil Hai Mushkil, this comes as no surprise but is an extremely disappointing next development. Government representatives like Fadnavis and Chaturvedi, instead of castigating goon threats, vandalism and violence, ungrudgingly validated their methods by providing them a legitimate seat at the table as a result of these attention-seeking actions.
It played just as was expected: not a word against targeted violence and property destruction and attempts to climb on the chest of a filmmaker well within his rights to make a period inspired film that does not claim to be the truth.
On March 5, vandals against Padmavati the movie similarly entered the Chittaurgarh fort, one of the state's prime UNESCO world heritage sites, and broke mirrors within the Padmini Mahal. According to a legend, Padmini's face had been shown to Alauddin Khilji in these mirrors. "Our warnings were ignored by the district administration. In the script too, Shobha Sant (CEO of Bhansali Productions) had insisted on a scene where Khilji sees Rani Padmini in the mirror. We constantly raised this issue with them but there was no follow-up by the flmmakers. So we salute those who vandalised their set today," Mahipal Singh, state president of Karni Sena had said.
The Rajasthan government is now openly encouraging the same heritage-disrespecting hooligans by inviting their supporter caste-based organisation to get their way into bullying. Who are the "knowledgeable" society members whose objections they proclaimed invite when none of them are neither privy to the movie's script nor realise that their grudges revolve around a possibly mythical figure. But misplaced caste pride trumps in political calculations. Once again, the rights of a filmmaker be overruled and damned, should the goons object (so what if it took destroyed public and private property, harmed animal and manhandled people to win them that).
Unreasonable violence and mob power has found a legitimate currency lately, and the governments seem to condone the linchpin intentions each time, even if they attempt to distance themselves from the miscreants. In the recent Ramjas violence unleashed by members of the ABVP, the blame of rousing was vaguely pinned upon the so called Leftists (all with disagreements with ABVP ideology/methods written off in one stroke) and a Gurmehar Kaur scapegoated and mistargeted based on a decontexualised placards from an old video — so much so that a union minister found it worth his time to imply that her mind was being polluted by 'anti-national agents'. Why are the vandals who destroy heritage sites and attempt to burn another's property not condemned but invited with respect?
Anyhow, if the screening of Padmavati is at all permitted in Rajasthan upon its release, the Karni Sena members will decide whether and to what extent it is fit for the eyes and ears of people residing in the state; when in a democracy with freedom of expression, they should be only deciding for themselves.
For all the latest India News, download Indian Express App now