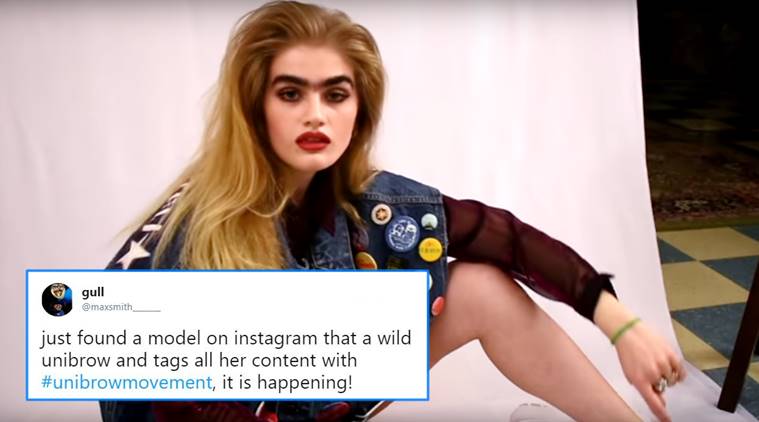 #UnibrowMovement: This model embraced natural eyebrow hair to inspire young girls
Frida Kahlo, the famous Mexican artist who was known for her self-portraits and unique looks, was recently honoured by toy company Barbie when it launched a doll inspired by her. Seems like the toy company is not the only one inspired by the artist. A 21-year-old model Sophia Hadjipanteli, who featured on Italia Vogue's website when she was just 15, has created quite a buzz on social media. She has done so by unapologetically embracing and flaunting her thick, black unibrow.
At a time in the industry, when women all around the world are undergoing multiple surgical procedures to get that "perfect" look, Hadjipanteli is like a breath of fresh air. Born to a Greek Cypriot father and a British mother, the young model who grew up in Maryland was often bullied for her thick facial hair, a Vice report stated. However, not letting the world shun her for her uniqueness, Hadjipanteli continued to fight the stigma and started the #UnibrowMovement. 
Wondering what motivated Hadjipanteli to start the movement? It was a simple compliment that did the trick. During an interview with the media company, the model said, "I was in Cyprus and I wasn't plucking my eyebrows because I didn't really have time — I was always swimming or something. So when I got back to my grandmother's house in London, she told me how pretty she thought I looked, and I kind of realized I had a unibrow at that point. And I just left it. I never really thought twice about it until recently when everyone [started making] the biggest deal out of it. That's kind of the story."
The model has over 1,78,000 followers on Instagram and has also created a buzz on Twitter. Here are some of the reactions her movement has received:
just found a model on instagram that a wild unibrow and tags all her content with #unibrowmovement, it is happening!

— gull (@maxsmith_______) January 29, 2018
Unibrow is beautiful. I'm gonna keep it. I'm not gonna let people to tell me otherwise. #Unibrowmovement

— Ash (@Ashraf_Bee) January 12, 2018
Confidence #UnibrowMovement pic.twitter.com/SXZwTKoODa

— Ash (@Ashraf_Bee) April 21, 2018
What do you have to say about her unibrow look? Tell us in the comments below
© IE Online Media Services Pvt Ltd