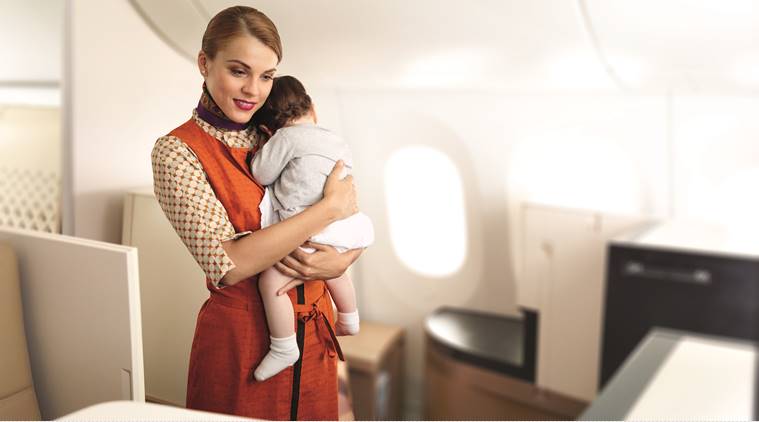 Shush, nanny is here: A helping hand on long flights
One of the most daunting prospects for many families with young children is how to handle long plane journeys while travelling. However, not many know that there's already some help at hand — the flying nanny. And the best part: the service comes at no extra charge and includes tasks as diverse as warming up milk bottles, reading to children, making origami airplanes, pulling off magic tricks, and even face-painting onboard!
Etihad Airways was the first to introduce the concept in 2013. Over the last few years, several other airlines such as Emirates and Gulf Air, who fly long-distance to Europe and the Americas from the Gulf region, have joined the fray. One or two nannies are supposed to be present on all of their long-haul flights, which technically span six hours or more. Interestingly, the Etihad's team of nannies, which has by now become 700-strong, have all been trained at the same college where Britain's Prince George's nanny Maria Borrallo learnt the ropes — Norland College, in Bath, United Kingdom.
Walter Ashleigh Mae, a nanny I encountered on-board a recent flight from Abu Dhabi to New York, says that nannies on air are basically trained cabin crew who, besides providing all of the above mentioned services, are also supposed to look after babies when parents go to restrooms, and even assist in nappy-changing.
Their training module includes a course in child psychology and sociology, enabling them to identify different types of behaviour and developmental stages that children go through. Since the programme launched, 2,138 flying nannies have been trained on 112 courses. "A lot of the activities are designed around distraction and engaging children as much as possible. It's not that we are given a template; in fact, we are encouraged to bring our creativity into the job," says Mae, who has a couple of years of experience behind her. "If nothing else helps, every Flying Nanny is equipped with a goody bag of games and activities to keep the kids occupied," she says.
Mae also confirms that the service is extended to all classes on the plane, not just the first and business class flyers. "Each long-distance flight has at least one nanny on board. There's no cost involved, nor does one need to book in advance. On each flight, the nanny walks through the aircraft to identify herself to parents with young children. They can even handle any kind of emergency with the infant on board," she adds.