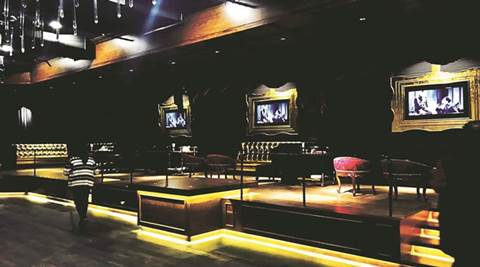 Raise a Toast
When you walk into The Porch, the point of entry for Matahaari, you'll get a whiff of something woody and floral with the undertones of leather. It's a scent curated specifically for Matahaari, Mumbai's newest – and perhaps the most opulent – nightclub, in Worli's Atria Mall. Breathe in deeply, and continue to walk down The Gallery, drinking in paintings of Mata Hari, the namesake of the club. Then enter The Foyer, the club's main area, where an expansive dance floor awaits you.
Watch What Else Is Making News?
Mata Hari was a Dutch exotic dancer from the 19th century, and later in her life, a spy during WWI. She was rich, seductive, charming – everything this nightclub aims to be, with its gold and black chandeliers, champagne tower, powder rooms with ensuite toilets, and VIP rooms hidden behind bookshelves. Food isn't an afterthought, either. The menu boasts of more than 60 Asian-inspired dishes, including maki rolls, steamed boas, and hot bowls, which are dishes Mata Hari might have served while she was entertaining.
"Our city completely lacks the perfect entertainment place for a more mature crowd," says Bobby Mukherji. "We want going to Mahahaari to be a celebration, from the moment you put on your lipstick to the time you get back home." Mukherji, along with Paoulomi Shah and Nikhil Merchant – all of whom come from a design or hospitality background – are the owners of the nightclub.
In Mumbai, nightclubs have an penchant for opening and shutting down rather quickly. DJ Akhtar, one of Mumbai's most popular DJs back in the days when the city did indeed boast of a vibrant nightclub scene, says that bars are much more popular now. The nightclub scene began to fade around 2011 when the government changed the closing times for entertainment establishments – 3 am for nightclubs in a hotel and 1 am for standalones. The steady rise in taxes year after year hasn't helped either.
"Look at the mills area in Lower Parel, for instance. You just see clusters of bars everywhere. They're more casual, affordable and intimate than nightclubs. Moreover, unlike most nightclubs, which open only on Wednesdays, Fridays and Saturdays, bars are open seven days a week," says Akhtar.
Amit Makhwani aka DJ Amyth, concurs. "Over the last couple of years, places like Bar Stock Exchange and Social have opened, providing a cheaper alternative. Nightclubs, because of their overhead costs, can't meet their price point. Why, then, would I drink there?" He also said that nightclubs' reputations sometimes suffer when fights break out or inappropriate behaviour takes place.
Mukherji is confident, though, that Matahaari has a timeless appeal. "This nightclub has a classic core to it. Over the years of visiting nightclubs abroad, I've noticed that the ones that stay open and draw in regulars are those which have a classic theme rather than those that are simply 'hip'," he says.