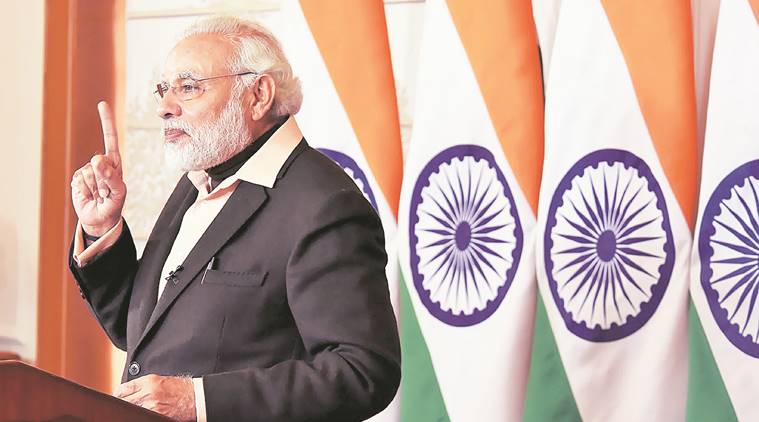 You innovate, we will help, PM Modi says in festival for youth
On the occasion of Swami Vivekananda's birth anniversary, Prime Minister Narendra Modi urged students to look at innovation and asked them to use their entrepreneurial skills to think out of the box. He also promised that government schemes will "hand-hold" them through the process.  At Gautam Buddha University in Greater Noida, Modi, during his address via video conferencing, told an audience which had assembled to celebrate the 22nd National Youth Festival that his government had recognised the need for linking education to skill training.
While elaborating on his government's schemes — Skill India, Startup India and Mudra scheme — the PM said that credit guarantee will be given to start-ups.  "Don't worry. Move ahead, take the first step. The government is with you… We will hand-hold you. Then, you yourself are capable of moving ahead," said Modi. The event, earlier scheduled in Rajasthan, saw UP CM Yogi Adityanath and Union Ministers Mahesh Sharma and Rajyavardhan Singh Rathore in attendance.
Adityanath told the audience that the youth represented the country's energy. "Bhagwan Sri Ram had taken a resolution that I will not leave any space for any kind of injustice in Bharat. A resolution to eradicate all injustice, torture, adharma. Bhagwan Sri Ram was a youth like you. Remember, 5,000 years ago, he resolved to free Mathura of injustice… he was a youth like you.. When Adi Shankaracharya came out of Kerala and he campaigned for dharma and sadachaar (good conduct) in the country, he became an ideal for all of us. What was Adi Shankaracharya's age? At the age of 32, he toured the country and established four pilgrim centres for national unity."