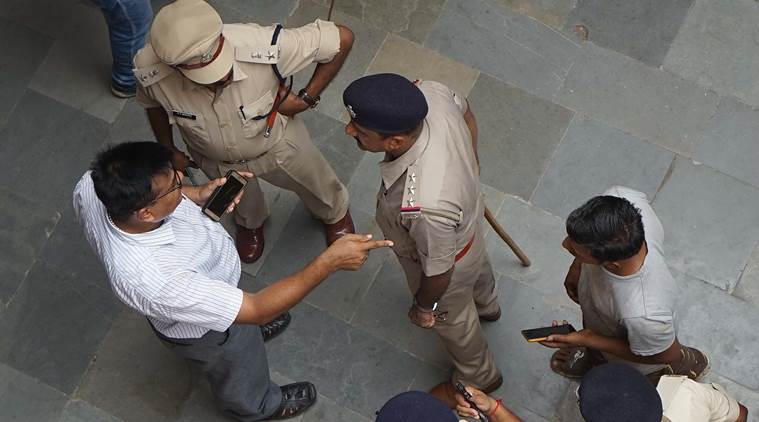 Uttar Pradesh cop suspended over WhatsApp messages accusing seniors of graft
Bulandshahr police on Tuesday suspended an inspector over negligence after a screenshot of a purported WhatsApp conversation accusing several high-ranking police officers of accepting bribes in exchange for favourable postings went viral.
Police have denied the allegations made in the "message" and said a preliminary inquiry revealed that an unidentified person may have been behind it.
The image showed the purported messages were sent from Dibai police station house officer Parashuram's official phone number. It mentions "ADG" and "SSP" allegedly accepting money to decide on transfers and postings. It also mentions that the SHO himself paid for his transfer from Noida to Bulandshahr.
Inspector Parshuram was transferred to Bulandshahr from Noida around a month ago. In the purported screenshot, it was alleged he paid Rs 50,000 for it.
Another message mentions that Rs 3 lakh was paid to a person known to Bulandshahr SSP to get a specific charge. A third message asked another person on the group to go to the ADG's camp office with an application and a packet containing Rs 50,000 and hand it over to the 'Babu ji' (clerk) there for a transfer.
The suspension was ordered by Bulandshahr SSP K B Singh who also lodged an FIR in the case.
"The FIR has been under IPC section 170 (personating a public servant) and the IT Act. The inspector's official Closed User Group (CUG) number was used to level the accusations all of which are false," said SSP Singh. "Our cyber cell is investigating the case and preliminary inquiry revealed that the inspector's official number was used by an unidentified person. I came to know about the messages through social media yesterday. Parashuram has been suspended on charge of negligence." The FIR also includes IPC sections for forgery and defamation.
When contacted, Parshuram claimed that he was not involved in any chat of this kind with anyone. "It appears that my phone has somehow been hacked to tarnish my image," he said.
ADG, Meerut Zone, Prashant Kumar claimed Parashuram was transferred to Bulandshahr by Inspector General, Meerut Zone. "The Whatsapp chat messages do not mention ADG, Meerut Zone specifically. The probe in the case would be transferred to the cyber cell," he said. —With ENS Lucknow