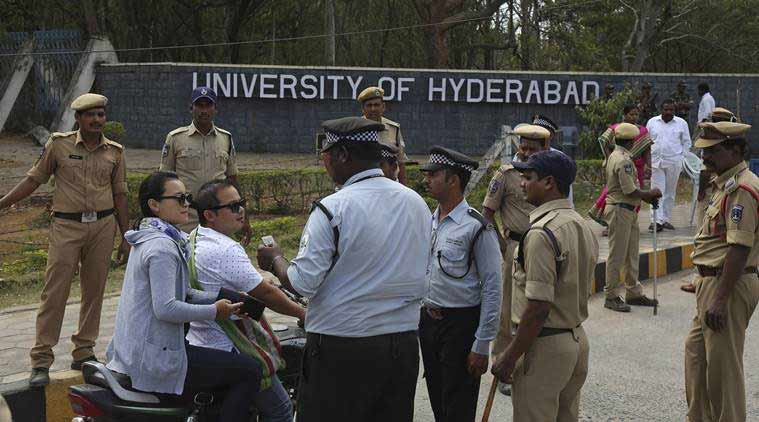 University of Hyderabad Boys' hostel raid triggers protest
Following the suspension of 10 students for allegedly flouting hostel rules and manhandling security personnel during a raid, some students of University of Hyderabad staged a protest on campus Monday.
Accusing the university administration of moral policing and suspending students without conducting a proper inquiry, the students' union called for a campus strike Tuesday.
According to sources, hostel wardens and campus security personnel raided a boys' hostel on November 3 after they received information that a girl was staying in one of the rooms. As per university rules, boys and girls are not supposed to enter each others' hostel rooms, but can meet in the guests' area.
During the raid, said sources, the girl was found in the room of one of the boys, who claimed they were studying. An altercation followed and other students gathered. They allegedly abused and manhandled the security personnel and the wardens before police reached the campus and rescued them, said sources.
Pro V-C Vinod Parwala said the youth in whose room the girl was staying had been warned verbally on October 27. Thereafter, he posted on social media that he does not want to follow any rule of the university, said Parwala. Following the November 3 ruckus, the university administration suspended 10 students — three of them for two years and seven for six months.
Parwala said if the students feel the punishment was harsh, they can appeal through proper channels. On Monday, some of the punished students appealed to V-C P Appa Rao for a rethink on their punishment, said sources.
University officials said students were blatantly violating rules. "We are lenient, but we cannot compromise the safety of girl students," an official said.
The students' union has condemned the raid. "The Students' Union of University of Hyderabad is distressed that the University of Hyderabad administration is witch-hunting students by slapping fabricated charges," it said in a statement.
PTI adds: In a late night release, the university said it had kept in abeyance the suspension order of 10 students after they appealed to the V-C. "The V-C has decided to refer the matter to the appellate authority, the executive council, which is scheduled to meet on December 2," it said.