India
Telangana Municipal Election Results 2020 LIVE Updates: 'Respect mandate given to TRS, otherwise democracy will lose its value', KCR warns Opposition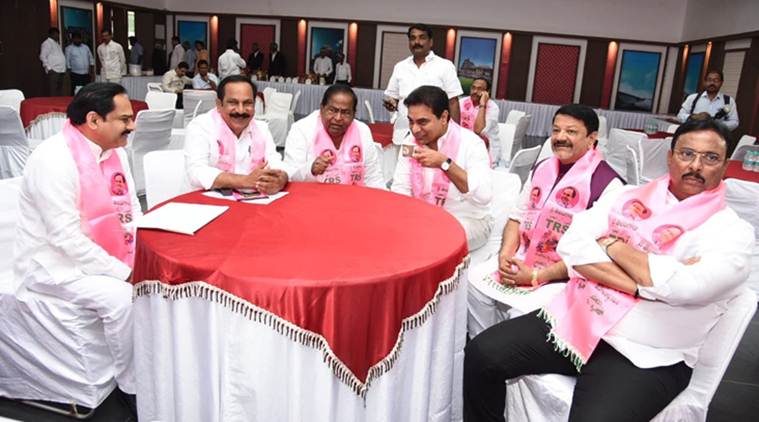 KT Rama Rao with party members at the Telangana Bhavan on Saturday. (Twitter/TRS Party)
Telangana Municipal Election Results 2020 LIVE Updates: Hours after celebrations broke out at the headquarters of the Telangana Rashtra Samithi (TRS), state Chief Minister K Chandrashekar Rao (KCR) urged the Opposition to respect the mandate given by people, warning otherwise "democracy will lose its value". While addressing the media at Telangana Bhavan, he raised the CAA issue and appealed to Prime Minister Narendra Modi to rethink the contentious citizenship law. "I'll hold a conclave of like minded CMs, regional party leaders to oppsose the amended citizenship law," he added.
January 22 had witnessed elections to 120 municipalities and 10 municipal corporations and as per latest trends, it indicated that the party was set to make a clean sweep in the urban local body elections today.
The ruling TRS is leading in 101 out of 120 municipalities and was leading in 30 others. It also won six of the nine Municipal Corporations and was leading in remaining four. Congress and BJP gave a tough fight but ultimately the TRS candidates won across the state. According to the results declared in 1542 wards at 3:30 pm, TRS leads with 945 wins, Congress follows with 295, BJP with 111. Meanwhile, Independents have secured victory in 116 wards, 6 and 4 wards respectively to CPI and CPM, whereas, AIMIM won 39 wards.