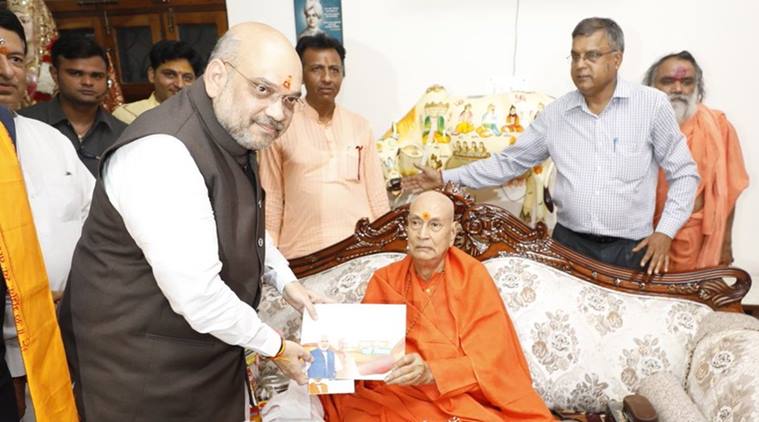 'Sampark for Samarthan' campaign: Amit Shah meets religious heads in Haridwar
As a part of BJP's 'Sampark for Samarthan' outreach campaign, BJP chief Amit Shah on Sunday met All World Gayatri Pariwar head Pranav Pandya in Haridwar. Shah, who was on a day's visit to Uttarakhand, also met Swami Satyamitranand, founder of Haridwar-based Bharat Mata Mandir, and the Juna Akhara chief Swami Avdheshanand Giri. Shah requested the heads of both the organisations to support the BJP in the 2019 Lok Sabha polls.
Following the meeting with Shah, Swami Satyamitranand told the media that Shah was expecting support from Satyamitranand's followers on the plea that Modi government has done a lot in the past four years. However, Pandya, who had declined the BJP's offer to enter the Rajya Sabha back in 2016 citing that the Gayatri Pariwar members did not want him to enter politics, said that the Gayatri Pariwar would assess the work of the BJP before lending any support for the upcoming Lok Sabha polls.
'सम्पर्क फ़ॉर समर्थन' अभियान के अंतर्गत आज हरिद्वार के भारत माता मंदिर में पूजनीय स्वामी सत्यमित्रानंद गिरी जी महाराज और स्वामी अवधेशानंद गिरी जी महाराज से भेंट कर उन्हें मोदी सरकार के द्वारा 4 साल में किए अनेकों लोकाभिमुख कार्यों और विभिन्न ऐतिहासिक पहलों की जानकारी दी। pic.twitter.com/44m4KfHSn5

— Amit Shah (@AmitShah) June 24, 2018
"Unhone hamse kaha ki hamari madad kijiye… hamne kaha ham aapka kaam dekhenge (Shah asked us for support, but we said we would first assess the BJP's work)," Pandya said to reporters following the meeting with Shah.
"Upto 15 crore people are directly connected with the Gayatri Pariwar," Pandya said.
While Pandya appreciated Prime Minister Narendra Modi for his focus on foreign policy, he underlined the need for catering to developmental needs on the domestic front.
आज शांतिकुंज (हरिद्वार) में 'अखिल विश्व गायत्री परिवार' के प्रमुख श्रद्धेय डॉ. प्रणव पंड्या जी और श्रद्धेया शैलबाला पंड्या जी से भेंट की। 'संपर्क फ़ॉर समर्थन' अभियान के अंतर्गत उन्हें प्रधानमंत्री श्री नरेंद्र मोदी जी के नेतृत्व वाली सरकार की 4 साल की उपलब्धियों से अवगत कराया। pic.twitter.com/T4BhtvQRoF

— Amit Shah (@AmitShah) June 24, 2018
After visiting Haridwar, which is considered important for the BJP in view of the presence of all prominent 'akharas' and temples, Shah reached Dehradun, where he met the BJP workers and ministers to review the progress in the organisational works which will matter in the party's preparation in putting up a good show in Uttarakhand's five Lok Sabha seats in the 2019 battle. In Dehradun Shah also stressed on using social media effectively during the polls.
In 2014, BJP had bagged all five Lok Sabha seats in Uttarakhand.
© IE Online Media Services Pvt Ltd