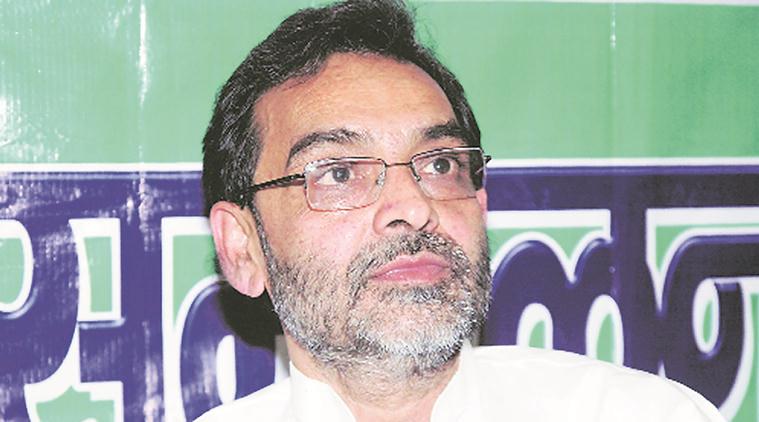 RLSP wants more seats than JDU, Upendra Kushwaha as Bihar NDA leader
A day after Bihar Chief Minister and JD (U) president Nitish Kumar said that a formal proposal on seat-sharing with the BJP should come in a month, another NDA ally, Rashtriya Lok Samata Party (RLSP), on Tuesday said it wanted more seats than the JD(U) because its "support base has increased over the past four years". It also said the RLSP chief and Union Minister Upendra Kushwaha should replace Nitish Kumar as the NDA's leader in Bihar. The RLSP had contested three Lok Sabha seats in 2014 and won all of them.
RLSP vice-president and spokesperson Jitendra Nath told The Indian Express, "While there has been a lot of talk of seat-sharing between the JD (U) and the BJP, there has been little talks of the other NDA allies, the RLSP and the LJP. We want to contest more seats than the JD (U) because our support base has increased over the last four years. Our leader Upendra Kushwaha is the future of Bihar politics with his growing acceptability. It is time he is made the NDA's face in Bihar."
Nath said even though the RLSP contested only three seats in the 2014 polls and one of its MPs, Arun Kumar, has broken ranks, his party deserved to contest more seats than the JD(U), which won only two Lok Sabha seats in 2014.
"It is true that Nitish Kumar has been the biggest non-Yadav OBC leader in the last 12 years, but Upendra Kushwaha comes from a broad social group in which OBCs Koeri-Kurmi and EBC Dhanuk dominate with about 20 per cent vote share. Nitish Kumar has hit his political plateau and it is time for a change in the NDA leadership," said Nath.
After OBC Yadavs, accounting for 14 per cent votes in Bihar and OBC banias (11 per cent), Kushwaha and EBC Dhanuks are the biggest social groups, both accounting for 8 per cent of the vote share. Koeri (3 per cent) along with Kushwaha and Dhanuk are considered to be part of the same social block and are considered to be a support base of Nitish or Kushwaha.
Asked if the RLSP has been indulging in pressure tactics to get a good bargain from the BJP, Nath said it was more about "asserting its position than applying pressure". He parried questions on the RLSP being in touch with the RJD.
RJD sources, however, told The Indian Express that the party has been in "constant touch with top RJD leaders". "There have been two meetings between the RLSP and RJD leadership. The RJD would definitely offer the RLSP more than what the BJP can," said an RJD source, saying the RLSP had demanded "6-7" seats. RJD vice president Raghuvansh Prasad Singh has openly said several times that Kushwaha would break ranks with the NDA and join the RJD-led Grand Alliance.