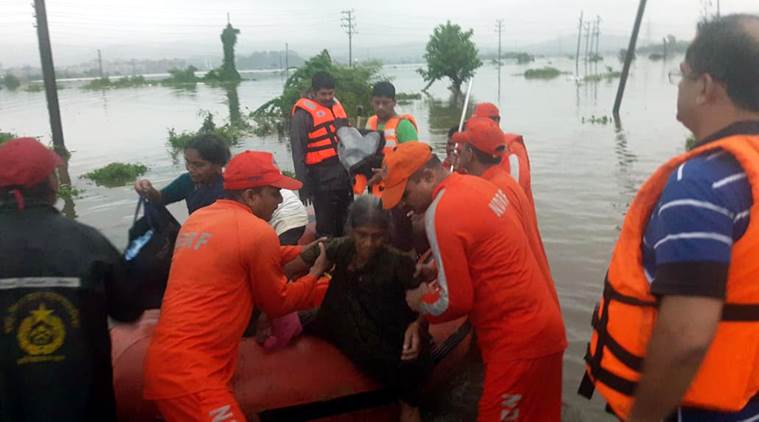 Rain claims 62 lives in Maharashtra since June 1
Heavy rains across Maharashtra have led to the death of 62 people between June 1 and July 9, Minister for Revenue, Relief and Rehabilitation Chandrakant Patil said in the state Assembly on Tuesday. In 13 districts, 100 per cent rain was reported and across the state, excluding Mumbai and the suburbs, 390 mm rainfall was recorded, stated the minister. The minister said there were 66 places where waterlogging was reported in Mumbai and its suburbs.
Almost 15 bus routes were diverted and the NDRF helped 700 persons who were stranded in local trains and 300 caught in floods. Mumbai and suburbs, Nagpur, Palghar, Thane, Ratnagiri, Sindhudurg, Raigad, Ahmednagar, Satara, Latur, Parbhani, Hingoli, Akola, Washim, Yavatmal, Bhandara, Chandrapur and Gadchiroli received more than 100 per cent rainfall, he said.
In the rest of the state the rainfall received was Nashik 64.4 per cent, Dhule 95.1 per cent, Nandurbar 66.6 per cent, Jalgaon 78.6 per cent, Kolhapur 70.9 per cent, Aurangabad 69.2 per cent, Jalna 78.1 per cent, Beed 86.5 per cent, Osmanabad 69.2 per cent, Beed 86.5 per cent, Osmanabad 98.4 per cent, Buldhana 62.5 per cent, Gondia 91.3 per cent and Solpaur 61.3 per cent. The IMD has predicted heavy rains in the next 24 hours as well.