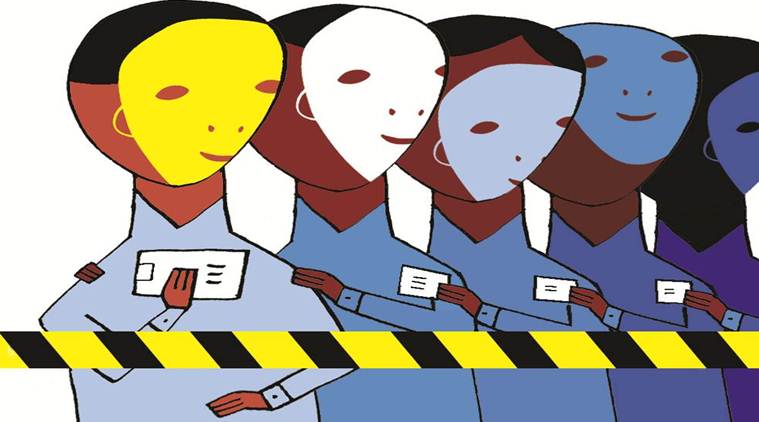 Railways recruitment nets unusual catch: Many fake candidates
MONTHS AFTER it started a recruitment drive to fill nearly a lakh of vacancies at the lower tier in one of the largest such exercises in the world, the Railways is facing an unusual irritant: fake candidates.
Officials say that ever since the drive started early this year, close to 200 FIRs have been with various state police authorities under IPC section 416 that deals with "cheating by impersonation" against the fake candidates and those who "outsourced" the tests to them.
The fake candidates were spotted by Railway invigilators who simply matched the faces to the photographs on admit cards.
"It's not as if the impersonator and the actual candidate looked similar. It's just some other person altogether. In a few cases, though, the impersonators made an effort to look like genuine candidates… wearing spectacles or even getting a certain type of haircut to match the photographs on the admit cards," a senior Railways official said.
A bulk of these FIRs — around 80 — were filed in Bihar and Jharkhand. "The rest were found in Uttar Pradesh, West Bengal and Madhya Pradesh," the official said, adding that the candidates who got others to represent them will be barred from future recruitment drives.
At least 176 of these cases were spotted during exams for Group D posts, which started in September and drew over 1.9 crore candidates for 62,907 posts. "Over 161 FIRs were lodged while the rest just fled the scene after they were intercepted at the gates," another official said.
According to officials, invigilators spotted this trend at the start of the drive that began with exams for 26,502 vacancies in the Group C category for assistant loco pilots and technicians in August.
"At least 17 cases of impersonation were spotted. This led to 15 FIRs being registered against fake candidates, while two fled from the exam centres," the official said.
The previous recruitment drive took place in 2016 for a higher tier of posts with graduation as the minimum requirement. "A few cases of impersonation were reported then," the official said.
Railway Recruitment Board members told The Indian Express that the policy was revised this time to ensure that all the 440 exam centres in 116 cities across the country were equipped with CCTV cameras, door-frame metal detectors and additional security. "Mobile phones are also not allowed inside the centres. But still, around 25 persons were caught trying to smuggle in mobile phones," a board member said.
With the drive scheduled to continue till December, the Railways has intensified awareness campaigns, warning candidates against falling prey to "racketeers".
"Our understanding is that there are racketeers who seek out gullible candidates and offer to arrange proxies for them in exchange for huge sums of money," an official said.
The warning on one of the board's websites summed it up: "Beware of touts and job racketeers trying to deceive by false promises of securing a job in Railways either through influence or by use of unfair means. Candidates attempting unfair means shall be disqualified and legal action shall be initiated against them."