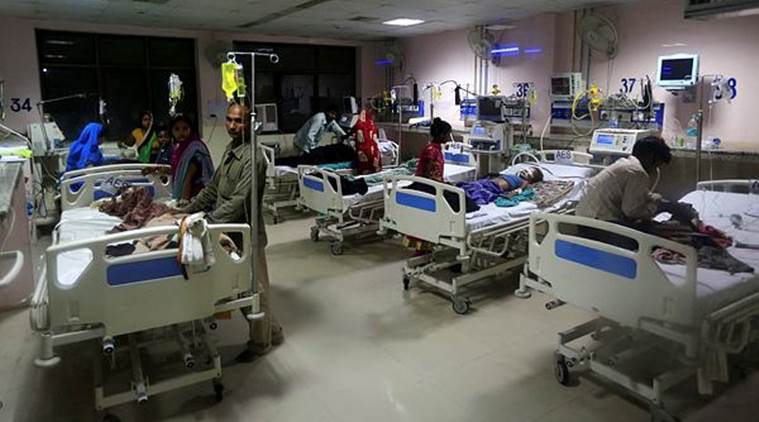 Pune: Video of godman 'performing rituals' on patient in ICU goes viral
A video of a 'godman' purportedly performing rituals on a 25-year-old woman patient in the intensive care unit of a reputed private hospital here went viral on social media on Tuesday.
The woman died of multiple organ failure yesterday morning.
Sandhya Sonawane, the woman, had approached Dr Satish Chavan, who runs a private hospital, to get treatment for a lump in her chest, one of her relatives told PTI.
"Dr Chavan advised a surgery to remove the lump and as per the advise, Sandhya underwent the surgery. However, her condition deteriorated and she was admitted to Deenanath Mangeshkar Hospital," he said.
While Sandhya was in ICU, on March 11 Dr Chavan brought along a godman, who performed some rituals, the relative claimed.
"This man took out some items from his bag and waved them from her head to toe while chanting something. We didn't have any prior knowledge about it, so we recorded the whole incident on mobile," he added.
The hospital management said its staff had no role in the entire episode.
"Neither the concerned doctor is associated with the hospital, nor any of our staff was involved in the entire episode," said an official from Deenanath Mangeshkar Hospital.
Sandhya died of multiple organ failure on Monday, the hospital official said.
Members of the Maharashtra Andha-shraddha Nirmulan Samiti (Maharashtra Superstition Eradication Committee) today approached the Alankar police station here and sought a case against the doctor under the `Maharashtra Prevention and Eradication of Human Sacrifice and other Inhuman, Evil and Aghori Practises and Black Magic Act'.
"We are in the process of recording the statement of the deceased's brother. As per the statement, a case will be registered," senior inspector Rekha Salunke of the police station said.
Dr Chavan was not immediately available for comment. His family members said he needed some more time to put out his side of the story.