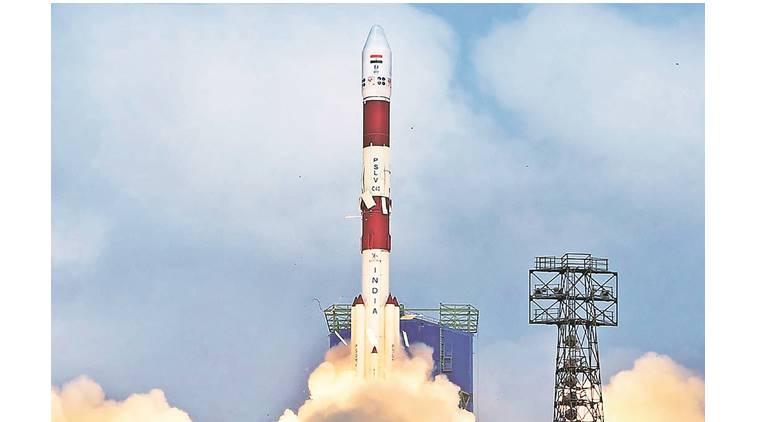 PSLV back after August failure, launches 31 satellites
Four months after it suffered a rare failure in recent times, PSLV, India's most dependable rocket launcher, was back in business on Friday, launching a Cartosat-2 series remote sensing satellite, along with 30 others, from the Satish Dhawan Space Centre SHAR at Sriharikota in Andhra Pradesh.
"The lift-off of PSLV-C40 occurred at 9.29 am IST from the first launchpad. After a flight lasting 16 minutes 37 seconds, the satellites achieved the polar Sun Synchronous Orbit of 503 km inclined at an angle of 97.55 degree to the equator. In the succeeding seven minutes, the Cartosat-2 series satellite, INS-1C and 28 customer satellites successfully separated from the PSLV in a predetermined sequence. The fourth stage of PSLV-C40 fired twice for short durations to achieve a polar orbit of 365 km height in which India's microsat successfully separated,'' ISRO said in a statement.
"ISRO is starting 2018 with the successful launch. All satellites have been released. So far, the perfromance of Cartosat has been satisfactory," ISRO chairman A S Kiran Kumar, who is set to retire on January 14, said at the mission control room in Sriharikota.
The main satellite aboard the PSLV-C40, 710kg Cartosat-2 series, is the seventh in a constellation of similar remote sensing satellites that ISRO has built up in space. All of them have sensitive advanced cameras on board to take continuous images of the earth that are used for a variety of land information applications such as urban and rural planning, mapping, laying pipelines, and monitoring geographical assets.
The other 30 satellites — 28 are from other countries — together weighed 613 kg. Two of them were the 11kg INS-1C and the 100kg class Microsat, Indian satellites of Cartosat-2 series. The foreign satellites came from Canada, Finland, France, Korean Republic, UK and the US, which were launched by ISRO under commercial agreements.
After Friday's successful launch, ISRO has now placed 237 foreign satellites from 28 different countries in space, including a world record feat last year when 104 satellites were placed in orbit at one go.
The two other Indian payloads on the rocket were a microsatellite, in about 100 kg class, and an 11kg nano-satellite. The microsatellite had to be released in a lower orbit than the others but it could only be released as the last payload. Therefore, after all the other satellites were released in the 505-km Sun Synchronous Orbit, the orbital height of the PSLV was brought down to ensure the placement of the microsatellite.
Today's flight was the first for PSLV after the failure of the PSLV-C39 rocket in August 2017 while trying to place navigational satellite IRNSS-1H into space. The failure was due to a problem with the heat shield in which the satellite in encased.