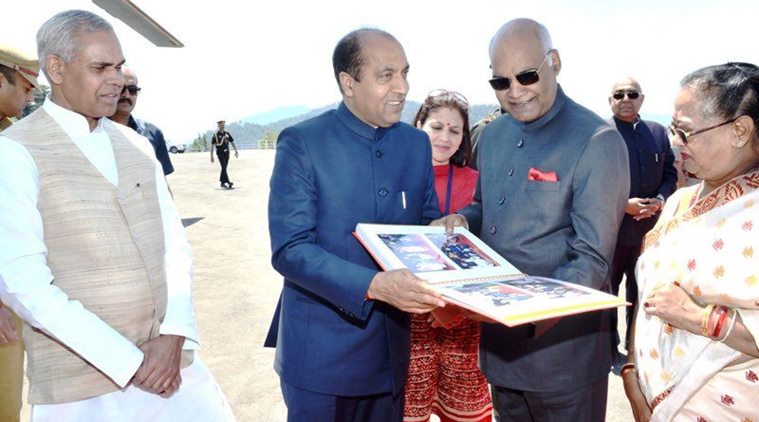 President Kovind returns to Delhi after six-day summer sojourn in Shimla
President Ram Nath Kovind was given a warm farewell at end of his six-day summer sojourn in Shimla as he flew back to Delhi on Friday morning. Governor Acharya Devvrat and Chief Minister Jai Ram Thakur accorded him a graceful send-off at Kalyani helipad at Charabbra suggesting him to make it an annual feature. President Kovind spent six days in Himachal Pradesh during his stay at 'The Retreat', the official residence of President of India,13 km from Shimla.
The President was given a civic reception in the town on May 22 after which he went to the Mall road and famous Ridge. He also bought some books from Manerva, a leading bookstore, and interacted with the tourists and locals.
Before his return, President on Thursday went to Shimla's water catchment and wildlife sanctuary with his grandchildren and spent few hours amidst the thick forest, popular for it's best fauna and Flora. The President also wrote about his visit to the sanctuary in today' edition of  The Indian Express.
Before he flew back, Chief Minister presented a photo album to the President as a memoir of his sojourn to the state. Irrigation and Public Health Minister and Minister-in-Waiting Mahender Singh Thakur, Mayor Municipal Corporation Shimla Kusum Sadret, Chief of Staff Lt. General Rajeev Sirohi ,Chief Secretary Vineet Chawdhry, Additional Chief Secretary and Principal Secretary to the Chief Minister Dr. Shrikant Baldi, Director General of Police S R Mardi, Secretary GAD Dr R N Batta, Deputy Commissioner Shimla Amit Kashyap, SP Shimla Omapati Jamwal were also present on this occasion among others.
© IE Online Media Services Pvt Ltd