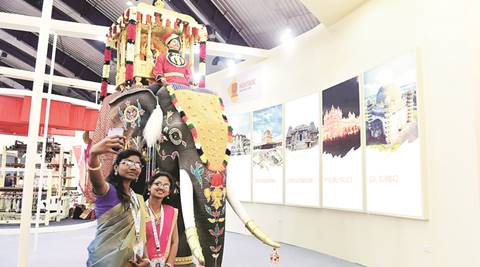 Pravasi Bharatiya Divas begins today: Sangh Parivar dominates biennial gathering of PIOs, NRIs
The 2017 edition of biennial gathering of non-resident Indians and people of Indian origin — Pravasi Bharatiya Divas — bears a distinct stamp of the RSS and BJP. A sizable chunk of speakers at the event this year comprises people associated with RSS affiliates, many of whom have been involved in organising events during Prime Minister Narendra Modi's tours and promoting key government programs abroad.
As many as 28 out of 110 speakers at nine plenary sessions of the event, which Modi will inaugurate in Bengaluru on Sunday, are associated with RSS affiliates. They include six non-resident Indians, who were involved in organising Modi's events in the US and Australia.
Pravasi Bharatiya Divas website describes Hindu Council of Australia general secretary Sanjeev Krishan Bhakri, who is among the speakers at the event, as a founding member of the Indian Australian Community foundation that organised Modi's public reception in Australia in 2014.
Watch What Else is Making News
Regular participants at the event confirmed a clear right-wing influence at the 2017 edition. "Unlike in previous years, this is a strong Sangh Parivar backed event. Many speakers have been handpicked from Sangh affiliates,'' said a US-based NRI associated with the Pravasi Bharatiya Divas for years. "There is also an effort being made to award people involved with organising events during the foreign visits of the Prime Minister.''
The maximum number of panelists with RSS links would speak at the plenary session on 'The Indian Diaspora: Catalysts for Realising India's Development Vision'. Among the panelists for the session is Susheel Kumar Saraff, a businessman from Thailand who is part of Ekal Vidyalaya Movement, and Hindu Swayam Sewak Sangh Inc's Arun Kankani. Some of the speakers have been recognised as key promoters of government programs. They include Achaiah Kumar Rao, whose areas of interest include promotion of AYUSH in Malaysia. Another participant Balesh Singh Dhankar is a social activist involved with a "platform to connect Indian diaspora and wider community in Australia with Swachh Bharat Abhiyan''.
The list of Pravasi Bharatiya Samman awardees is yet to be announced, but is believed to contain names of people involved with Modi's events especially in the US. Dr Bharat Barai, the medical director of a cancer institute in Indiana, and Vishva Hindu Parishad America's Mahesh Mehta, who were a key organizer of Modi's September 2014 Madison Square event, are believed to be on the list. "The awards have not been announced but we have learnt that Dr Barai and Mahesh Mehta will feature among the winners this year,'' said the US-based NRI.
Officials said that the list has been a closely-guarded secret. "The details have been shared only with a few people. It (the list) will be made public ahead of the presentation of the awards on January 9 by the president,'' an external affairs ministry official said.