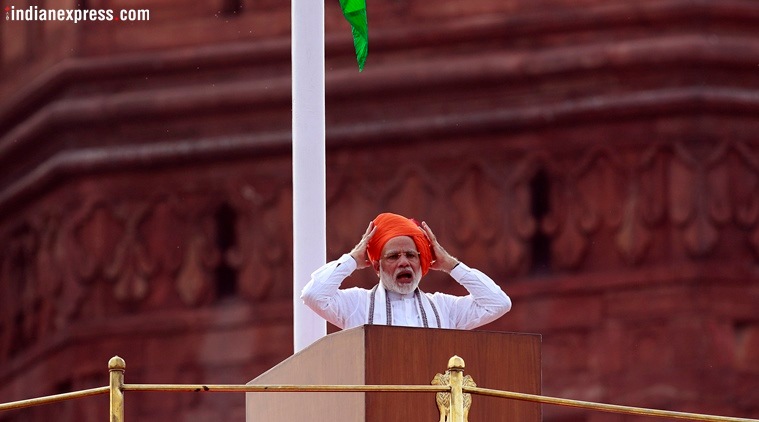 Pradhan Mantri Jan Arogya Yojana will cover 50 crore people, says PM Modi
Ayushman Bharat-National Health Protection Mission – that the prime minister rechristened as the Pradhan Mantri Jan Arogya Yojana – will cover 50 crore people, equal to the populations of America, Canada and Mexico together, Narendra Modi said in his Independence Day speech on Wednesday.
The scheme will pilot in 106 districts in 14 states of the country. The actual dates of pilot launch will have to be worked out with the states. The national rollout will happen on September 25, the birth anniversary of RSS ideologue Pandit Deen Dayal Upadhyay.
In his speech, Modi said: "Even in middle class and affluent families, when one person falls ill the entire family is diseased. That cycle of impoverishment continues for several generations. So we have decided 10 crore families…every family will get Rs 5 lakh health cover per year. The technology tools for this – because it will be a technology driven programme to ensure maximum transparency – will be tested from today in different parts of the country for the next four to six weeks and then on September 25 on the birth anniversary of Pandit Deen Dayal Upadhyay it will be rolled out across the country."
Apart from putting a brake on the vicious cycle of impoverishment because of catastrophic medical expenses, Modi added, there would also be a spin-off effect on employment generation especially in the medical sector as hospitals come up in the Tier II and Tier III cities. In-patient hospitalization expenditure in India has increased nearly 300% during last ten years. (NSSO 2015). More than 80% of the expenditure are met by out of pocket (OOP). Rural households primarily depended on their 'household income/savings' (68%) and on 'borrowings' (25%), the urban households relied much more on their 'income/saving' (75%) for financing expenditure on hospitalizations, and on '(18%) borrowings (NSSO 2015). OOP expenditure in India is over 60% which leads to nearly 6 million families getting into poverty due to catastrophic health expenditures.
The pilots will be carried out in 27 districts of Chattisgarh, 23 in West Bengal, 22 in Haryana, 16 in Arunachal Pradesh, 6 in Madhya Pradesh, two each in Manipur, Uttarakhand and Daman & Diu and one each in Chandigarh, Mizoram, Meghalaya, Nagaland, Himachal Pradesh and Dadra and Nagar Haveli. This means the pilot will cover all states of Chhattisgarh, West Bengal and Haryana. West Bengal is, in fact, the only opposition-ruled big state in the entire list of AB-NHPM pilots; there is one district from Congress-ruled Mizoram.
Must Watch
From condemning rape to promising Triple Talaq Bill, Narendra Modi makes a pitch to women voters in I-day speech

Kerala island worries about floods destroying their link with the mainland

English Premier League 2018/19 Preview

Aishwarya Rai Bachchan Talks About Hollywood, Pay Parity & More
Start your day the best way
with the
Express Morning Briefing
© IE Online Media Services Pvt Ltd