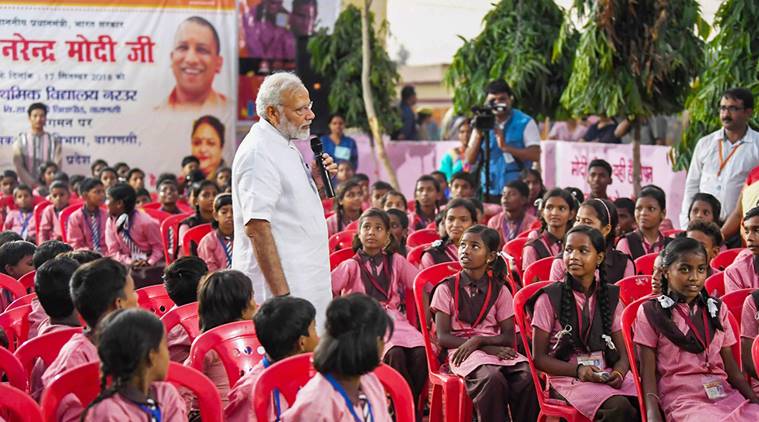 PM in Varanasi: On 68th birthday, Modi visits school, temple
Prime Minister Narenda Modi spent his 68th birthday in his parliamentary constituency Varanasi, where he offered prayers at the Kashi Vishwanath Temple and visited a primary school at Naraur. Modi reached Varanasi for a two-day trip Monday evening, and was received at the airport by Chief Minister Yogi Adityanath. He then headed to the primary school, where an initiative called 'Room to read' has been introduced by an NGO in collaboration with the government.
While interacting with students, the prime minister told them that they should never be afraid as there is no such thing as fear. "Dar lagna hi nahi chahiye…Gandhi hi jab chote the to unhe dar lagta tha…To unki maa ne unhe samjhaya ki Ram ka naam lo dar chala jayega…jab andhere mein jate the to Ram ka naam lete the… (When Gandhiji was a child and he would feel scared, his mother would tell him to take Ram's name)," Modi told the students, who questioned him on various issues. Encouraging the children to indulge in outdoor activities like climbing trees, the prime minister advised them, "Jo khelta hai…woh khilta hai (Those who play, bloom)."
Sources said that when one of the students said he did not visit the village he had adopted, the prime minister merely said that it was not he who had adopted the village, but the village that had adopted him. While the students, including differently-abled Chandan Vishkarma, a fourth grader, read and recited stories, Modi asked them if they knew the significance of 'Vishkarma'. "Jeevan mein age badhna hai to jaisa humein kitabon ka gyan hona chahiye waise kaushal bhi hona chahiye…cycle pe baithe bina cycle seekh gaye… (If you want to get ahead in life, you must have the knowledge of books as well as skills)," he told them.
State manager of 'Room to read' Mukesh Joshi told The Indian Express that the children recited stories like 'Chatur chuha aur budhu bandar', 'Dada ji ka chata' etc. and the prime minister listened to each one. Later in the day, Modi also interacted with some students of Banaras Hindu University who have been working with underprivileged children. He then visited the Kashi Vishwanath Temple to offer prayers along with Adityanath.
Sources said that in the evening, the prime minister called a meeting of senior and district-level officials of the state government to review development projects including the proposed widening of the road from Kashi Vishwanath Temple to Ganga Ghat, in his constituency. He also met ASHA and Anganwadi workers. On Tuesday, Modi is scheduled to inaugurate and lay foundation stones of projects worth Rs 500 crore. These include an incubation centre at BHU named after former Prime Minister Atal Bihari Vajpayee.