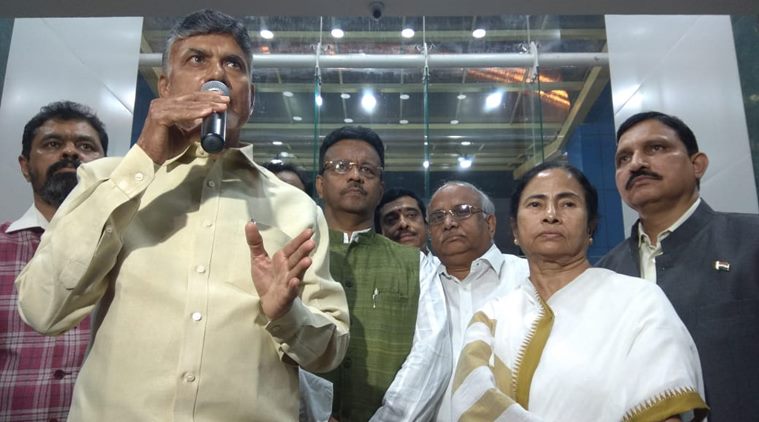 Opposition conclave set for Nov 22 deferred: Chandrababu Naidu
The Opposition conclave, scheduled for November 22, has been deferred due to a disinclination of leaders of various parties to attend the meeting, it is learnt.
Andhra Pradesh Chief Minister and Telugu Desam Party (TDP) leader N Chandrababu Naidu had made no secret of the fact that he was keen on a mega-Opposition show in Delhi on November 22 "because of the elections" in five states. But leaders of other opposition parties wanted to avoid it ostensibly for the same reason.
With most of them preoccupied with their respective parties' election campaign in these states, they were not prepared to take time off to come to Delhi for the meeting, sources said. Besides, the sources added, at a time when their candidates are locked in electoral battles against one another, any attempt to project an Opposition unity in Delhi was bound to be seen as unconvincing.
In Kolkata, after meeting West Bengal Chief Minister Mamata Banerjee, Naidu conceded as much, stating that the scheduled meeting has been put off due to the Vidhan Sabha elections, and that they will meet before the Winter Session of Parliament gets underway.
  Chandrababu Naidu meets Rahul Gandhi, says coming together is 'democratic compulsion'.
With Banerjee by his side, Naidu said, "We earlier wanted to meet on November 22 but (now) want to meet before the next Parliament session due to the Assembly polls. The date (of rescheduled meet) will be announced soon…"
Asked whether BSP chief Mayawati will be part of the Opposition conclave, Naidu said, "All these things will be discussed later. We are in touch with Mayawati-ji and everyone (else)."
Sources, however, said Opposition leaders felt that Naidu was in a tearing hurry to acquire the Opposition shield fearing trouble from the CBI and the ED. Despite the anti-Congress history of the TDP, Naidu had called on Congress president Rahul Gandhi to put together a broad anti-BJP front to take on the BJP in next year's General Election.
He kept up the momentum by meeting NCP chief Sharad Pawar, National Conference's Farooq Abdullah, Samajwadi Party chief Akhilesh Yadav, his father Mulayam Singh Yadav, RLD chief Ajit Singh, CPI(M) general secretary Sitaram Yechury, DMK leader M K Stalin, and JD(S) chief H D Deve Gowda.
Sources said Opposition leaders did not want to publicly snub Naidu but they did not have any sympathy for him either. Should the Narendra Modi government go after him, the sources said, leaders of the Congress, Left parties and others could be trusted to extend some lip sympathy to him and watch.
Naidu, in their view, had had the best of both worlds, having first shared power with the BJP for four years and now trying to become its key vocal critic.
The non-BJP parties, by and large, remain steadfast in their opposition to the saffron outfit, but no one is interested in allowing Naidu to become the nucleus of their joint activities, sources indicated. In Kolkata, Naidu told the media, "I came here to meet Mamata-ji. Today we, as senior leaders, have some responsibility to save the nation, to save democracy – we have to protect the institutions…." Asked who will be the face of the Opposition grand alliance, if it materialises, Banerjee said, "Everybody will be the face of this Mahagathbandhan."
(With Santanu Chowdhury in Kolkata)