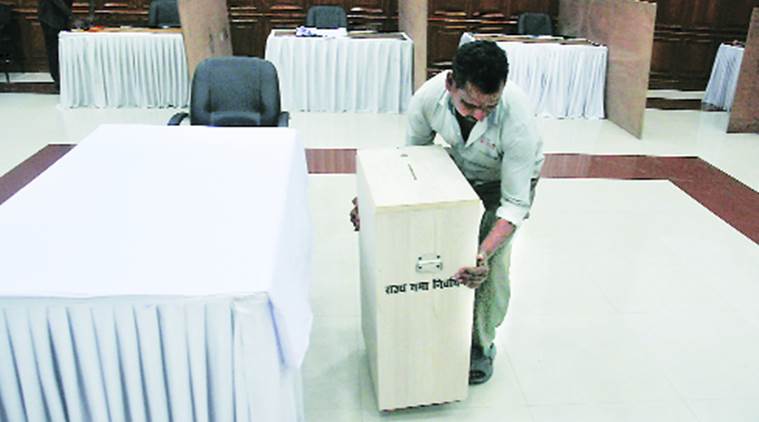 On eve of RS polls, Allahabad High Court stays order allowing Mukhtar Ansari to vote
IN a setback to the BSP, the Allahabad High Court on Thursday stayed the Ghazipur (SC/ST Act) special judge's March 20 order that allowed BSP's jailed MLA, Mukhtar Ansari, to vote in the Rajya Sabha elections on Friday.
A bench of Justice Rajul Bhargava passed the order on a petition filed by the state government on Thursday, challenging the order of the Ghazipur court.
Issuing a notice to Ansari, the High Court asked the MLA to reply within two weeks. It also directed that the authorities of Banda District Jail, where Ansari is lodged, be informed of the order by fax on Thursday.  No counsel appeared on behalf of Ansari in court, which will now hear the case on April 9.
While hearing the government's petition, the High Court said that the "special judge (SC/ST Act), Ghazipur, has passed the impugned order in ignorance of the provisions of sub-section (5) of section 62 of the Representation of People Act-1951".
Sub-section (5) of Section 62 of the Act says that no person shall vote at any election if he is confined in a prison, whether under a sentence of imprisonment or transportation or otherwise, or is in the lawful custody of the police, provided that nothing in this sub-section shall apply to a person subjected to preventive detention under any law for the time being in force.
State Advocate General Raghvendra Singh said that another petition filed at the Lucknow bench of the HC, in connection with the Ghazipur court order, was dismissed on Thursday after the petition was withdrawn. Along with Ansari, SP MLA Hari Om Yadav withdrew his petition seeking permission that he be brought to Lucknow on March 20, PTI reported.