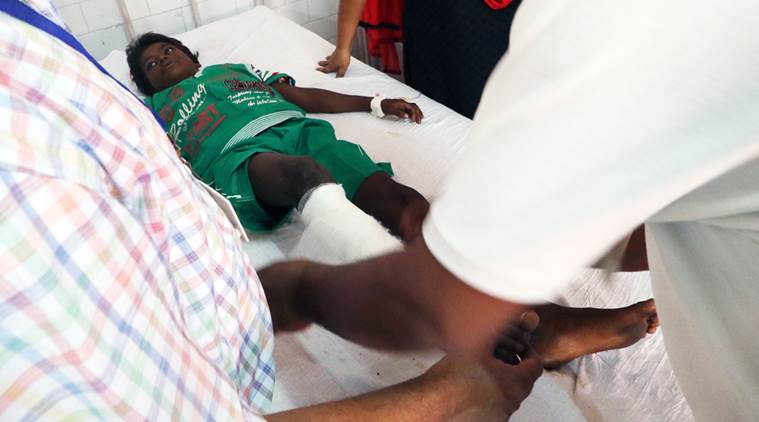 New Farakka Express derails: Lives turned upside down as train tumbled
Ten-year-old Rakesh Manjhi became the eldest of his family on Wednesday. Besides him on a hospital bed in Rae Bareli lay asleep his eight-year-old brother Ravi sleeping and two-year-old sister Sita. Just hours earlier, they had lost their mother, 20-year-old brother and Sita's twin, as the New Farakka Express derailed. The family had boarded the train from Bihar on Tuesday.
"These kids had lost their father Mohan Majhi to some illness around two years ago. Their mother Anita (45) took care of them. They are very poor. This year Anita decided to go to Punjab in search of work and then this happened," said 50-year-old Ganesh Das, their neighbour from Kishanpur village in Bihar's Munger district, who also travelled with them. "Hum log engine ke baad wale dibbe me tha. Full speed se chal raha tha train aur phir gadgad hone laga pura sab. Jo upar baitha tha, iski mummy, sab girne lage aur pura coach palat gaya. Pura dhool bhar gaya. Kuch dikhayi nahi de raha tha. Jaise hi sab ruka sab bahar bhaage. (We were in the coach right next to the engine. The train was going full speed and then it all started shaking. Those sitting on the upper berth, including his mother, fell. The coach turned. There was dust everywhere. As soon as it stop tumbling, we ran outside)."
 Five killed, over 30 injured as New Farakka Express derails in Rae Bareli
Eighteen kilometers away at the accident site, 30-year-old Kusheshwar sat drenched in sweat. He was shouting into the darkness beneath a derailed coach. "I think I can see him. My friend Ajay Puri," he yelled to the rescue team a little distance away.
The National Disaster Response Force (NDRF) team rushed towards him. They slid a small camera through the cracks. There was no one there. Kusheshwar was dejected. "He has a wife and three minor children. What will I tell them?," he said.
Then someone suggested he try the mortuary. Kusheshwar ran with a muddy sleeper in his hand. Sure enough, he found Ajay. "We were a group of 21 coming from Danapur in Bihar and going to Patiala via Delhi. We go there every year in search of work as agricultural labourers," he said.
"Every year we would travel by the Amrapali Express, but as it was all packed, we decided to come by the New Farakka Express. Within minutes of the accident, the Railway Police and people in the area came to our rescue. There was just noise everywhere. They filled two whole buses with the injured. This is the closest I have seen to hell," said his friend Madan Giri.