'More than 50 cases of violation in Advani, Abdullah and Azad security cover,' NSG Writes to Delhi govt, police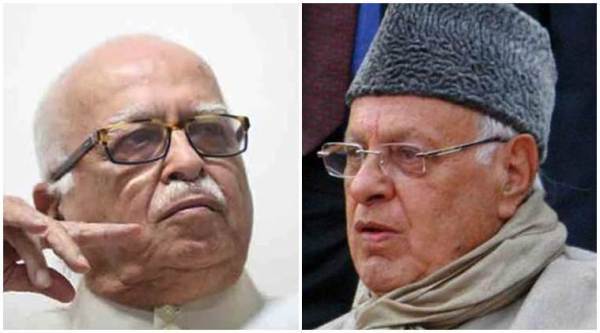 The National Security Guard (NSG) has written to the Delhi government and the state police flagging over 50 instances of "violations" in the security cover of three senior politicians – Lal Krishna Advani, Ghulam Nabi Azad and Farooq Abdullah.
In its letter, dated November 2, the Directorate General of NSG listed the specific nature of the violations, along with location details and dates.
The report, detailing the violations registered in October, observed that in view of the prevailing threats being faced by them, security violations of such nature were "risk prone".
The violations range from jammer and ambulances being not provided to their carcades, private security officers "not allowed" in the vehicles of the protectees, and multiple "unauthorised persons" being allowed to sit in their vehicles.
While Advani has served as the Deputy Prime Minister, Azad is the Leader of Opposition in the Rajya Sabha and Abdullah has served as Jammu and Kashmir's Chief Minister thrice.
According to the letter, on October 17, "ambulance and protectee spare vehicle" were not provided in the carcade of Advani. "Three unauthorised persons were allowed to sit in protectee vehicle… ACP- or DySP-rank officer of Delhi Police was not present in the tail car," it said.
In the case of Azad, most of the violations refer to the absence of jammers and ambulances in his cavalcade. The security violation report says that on October 4, "Four- or five-door vehicle was not provided in the carcade for NSG escort… One unauthorised person was allowed to sit in protectee vehicle…"
Besides Delhi, similar violations were listed in case of Abdullah in Mumbai and Srinagar among other places.
The letter said: "You are requested to apprise the protectee of the implications of such security violations and request the protectee to follow laid down security guidelines/drills so as to ensure the desired level of mobile security and safety to the protectee. Security of highly-threatened person such as Shri Lal Krishna Advani, Dr Farooq Abdullah and Shri Ghulam Nabi Azad can only be enured if all the guidelines are followed scrupulously."
The NSG, which was formed in 1984 currently provides cover to 34 Z+ security protectees. Calls and texts seeking comments from NSG went unanswered.
"We have not received any such letter so far. But we are very much professional in providing security to the protectees. We do not want to discuss about the security measures of the protectees in public domain," I D Shukla, Delhi Police Joint Commissioner of Police (Security), said.