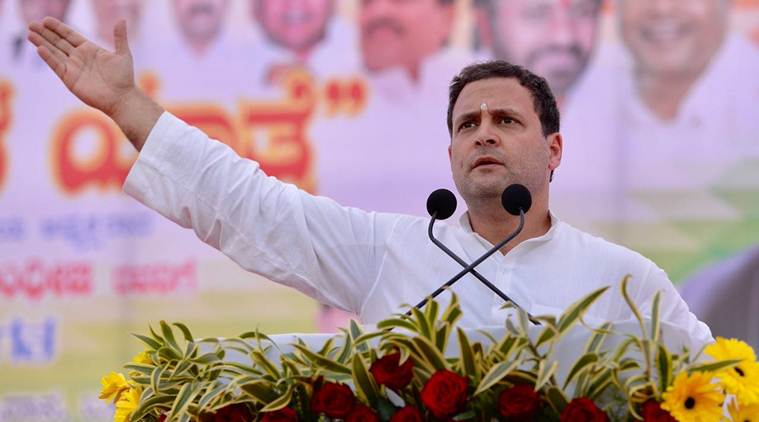 Ministers not operating independently as RSS men planted in every ministry: Rahul Gandhi
Congress president Rahul Gandhi on Tuesday accused the Rashtriya Swayamsevak Sangh (RSS) of trying to "capture" every institution in the country, and said it was a "particular ideologue" of the Sangh Parivar outfit who gave the idea of the note ban to the Prime Minister.
"Do you know where the idea of note bandi (note ban) came from? Do you know who gave the idea of note bandi to the Prime Minister of India? It was not RBI, it was not Arun Jaitley (Finance Minister), it was not an officer in the Finance Ministry," PTI quoted Rahul Gandhi as saying during an interaction with professionals and business community on the last day of his four day 'Janashirvad Yatra', in the northern Karnataka  region here."It was a particular ideologue of the RSS. Now you imagine the RSS places an idea into the Prime Minister's mind and the Prime Minister launches that idea," he added.
Gandhi also said that RSS and the BJP claim to know everything and that's why they are making such  "disastrous" decisions. He, however, added that even a child would have said that it was a not a  good idea to "destroy" Rs 500 and Rs 1000 notes that allowed corrupt to convert black money into white.
The Congress president also alleged that RSS men were stationed in each ministry of the government and that's why, the ministers were not able to function independently.
"In every single ministry in India, national level there is an OSD (Officer on Special Duty)from RSS working with the minister…In  every ministry in India, there is a man from RSS who works with the minister. The minister is not operating on his own," he said.
He also stated that the ministers being guided by RSS on what to do. "The approach is of capture, the approach is here is an institution and let us capture it; as opposed to allowing an institution to serve the people of India and allowing the people of India to capture the institution," said the Congress president.
The Congress' idea is to "democratise" institutions while BJP believes in "bureaucratising" the institutions, said the Congress president.  "This is the fundamental conflict we have with BJP.Their idea is wherever they go they plant people with their ideology into that organization," he said.
(With PTI inputs)
© IE Online Media Services Pvt Ltd