India
Kerala floods: Rescued by Navy, woman gives birth to son
On Friday afternoon, Commodore Vijay Verma of the Indian Navy had a challenge — to keep his Chetak chopper steady to winch up pregnant 25-year-old Sajita Jabil from the terrace of her marooned house in Aluva town.
The town, part of Ernakulam district, is situated on the banks of Kerala's largest river Periyar. The river in spate had climbed up the town and sent many of its residents packing to relief camps, and Sajita to the rooftop. To add to the challenge, she was in labour and her water had broken. Follow LIVE UPDATES Here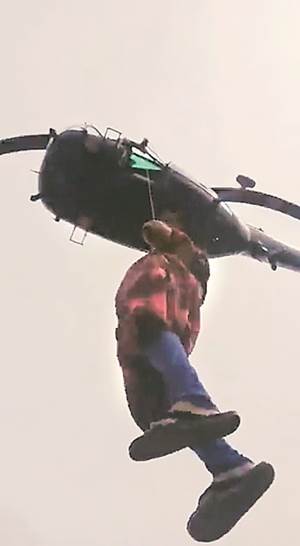 The rescue team spotted spotted Sajita around 8 am, Navy spokesperson told The Indian Express. A little later, the rescue team lowered a doctor on to the terrace to examine her and decide if she can be airlifted. By 10 am, after getting the go-ahead, Sajith slid herself into the sling and was winched slowly upwards amid the roar of the rotor blades. After she boarded, the chopper reached the Indian Naval Hospital Ship Sanjivani in around 30 minutes. Minutes past 2 pm, she safely delivered a healthy boy.
"A pregnant lady with water bag leaking has been airlifted and evacuated to Sanjivani. Doctor was lowered to assess the lady. Operation successful," @tweeted SpokespersonNavy, which got around 1,100 retweets and 2,400 likes by 8 pm. "The young lady and her new born son both are doing fine. God Bless them," said another tweet.
Start your day the best way
with the
Express Morning Briefing