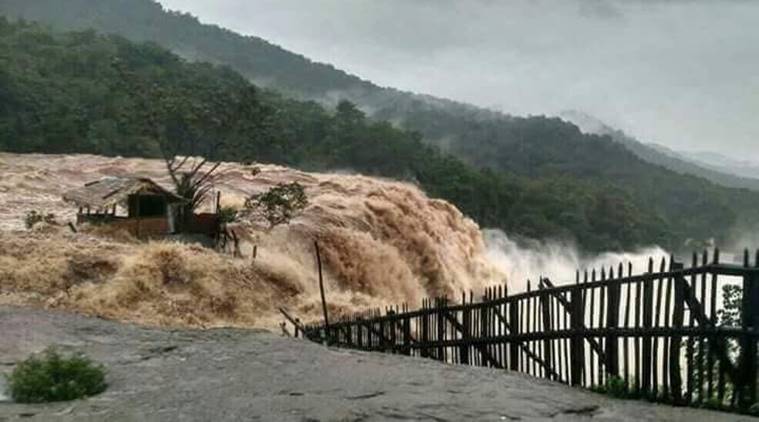 Kerala floods: How to contribute to CM's Distress Relief Fund
The flood situation in Kerala continues to be grim as death toll rises nearly 70. With no let up in the torrential rainfall, flight operations at Kochi airport have been suspended till Saturday. With the Meteorological department predicting heavy to very heavy rains across the state till August 18, a red alert has been sounded in all 14 districts. More than 1.5 lakh people have been lodged in relief camps across the state. Click here to read Kerala rains LIVE updates in Malayalam
Schools have been shut after major areas were inundated with water. Power supply, communication systems and distribution of drinking water have been disrupted in various parts of the state. Train services have been disrupted and road transport services are in disarray with stretches of roads under water.
Chief Minister Pinarayi Vijayan has called for help to rebuild the lives of people in the state. "At this of point of time, nothing can help as much as money," Vijayan said earlier this week. Those who wish to send essential services like mattress, toiletries, medicines, food grains, furniture, clothes can contact the emergency operations centre at the district Collectorates. The toll-free number is 1077.
Follow Kerala rains LIVE UPDATES
Finacial assistance can be provided using the CM's Distress Relief Fund (CMDRF). The donations are exempted from income tax as well as Foreign Contribution Regulation Act, 2010.
Help Kerala flood victims: How to contribute to CM's Distress Relief Fund (CMDRF)
1. Contribution can be made directly by going to donation.cmdrf.kerala.gov.in
* The payment procedure is simple, secure and easy
*Once you log on to the website, click on the donate menu and fill the Online Donation Form.
* Basic information like email Id, name and phone number will be asked.
*It will then redirect you to a payment gateway where you can pay through net banking, credit cards and debit cards. In some cases, before you reach the payment gateway, they may ask you to verify via captcha.
* Once the transaction is successful, you will get a payment success notification on the display as well as on your email address. This includes a certificate from the principal secretary (finance) as well as a 100 per cent tax exemption certificate.
2. Money can be contributed by cheque/DD or internet banking.
* In case you plan to send to mail a cheque/DD, you can address it to
The Principal Secretary (Finance) Treasurer,
Chief Minister's Distress Relief Fund,
Secretariat,
Thiruvananthapuram – 695001
Kerala floods: Here's how you can help
3. Donate Online
If you choose to donate online, account details are as follows:
Account number: 67319948232
Bank: State Bank of India
Branch: City branch, Thiruvananthapuram
IFS Code: SBIN0070028
PAN: AAAGD0584M
Name of Donee: CMDRF
4. Unified Payments Interface and QR codes
They are listed for South Indian Bank, Federal Bank and SBI.
Must Watch
On Kashmir, Modi invokes Vajpayee. Says using bullets is not the way forward

From condemning rape to promising Triple Talaq Bill, Narendra Modi makes a pitch to women voters in I-day speech

Bollywood Stars Reveal Their Dream For India on Independence Day

Aishwarya Rai Bachchan Talks About Hollywood, Pay Parity & More
Start your day the best way
with the
Express Morning Briefing
© IE Online Media Services Pvt Ltd