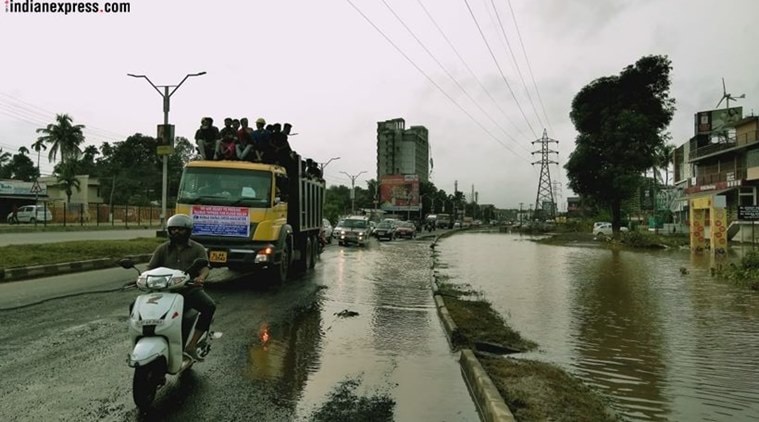 Kerala floods: As rainwater recedes, fear of disease outbreak looms
As floodwaters continue to recede in parts of Kerala, the deluge has left homes covered with mud, vehicles damaged and debris scattered on the streets.  The state is staring at a huge clean-up operation after the worst floods in a century killed more than 200 people.
While there was a decrease in rainfall in a majority of the state, the IMD has predicted heavy rains in a few areas over the next 72 hours. So far 22,000 people have been rescued and thirteen fresh deaths were reported on Sunday.
Meanwhile, the discharge from the Idukki, Idamalayar, Peringalkuthu and Sabarigir dams have been reduced, and the state government withdrew the red alert for the districts of Ernakulam and Idukki.
As rescue operations wound down to its final stages, the government began to shift focus to ensuring relief to affected persons, and to the rebuilding of civic infrastructure damaged by the floods.
Authorities are preparing to deal with a possible outbreak of water-borne and air-borne diseases. "The focus of the state government will be to bring life back to normalcy even as rescuing the people stranded in remote areas continues. Rehabilitation of the affected will be taken up with the cooperation of the local people," Chief Minister Pinarayi Vijayan said after a review meeting on Sunday.
According to the Indian Meteorological Department, "heavy rainfall" is expected only in Kozhikode, Kannur and Idduki districts over the next four days. While the situation seems to be easing up in Kerala, neighbouring states Karnataka and Tamil Nadu are also reeling under floods.
The military has led rescue efforts to reach people in communities cut off for days by the floods, with many trapped on rooftops and the upper floors of their homes, and in desperate need of food and potable water.
Train services between Thiruvananthapuram and Ernakulam are gradually becoming normalised, news agency PTI reported. Keeping up with the flood relief efforts, Indian Navy station INS Garuda on Monday witnessed the operation of civilian flights in order to compensate for the flooded Nedumbassery airport (Kochi). It is after 18 years that civilian flights are landing and taking off from the naval airport. Usually, planes carrying VVIPs land here.
Start your day the best way
with the
Express Morning Briefing
© IE Online Media Services Pvt Ltd