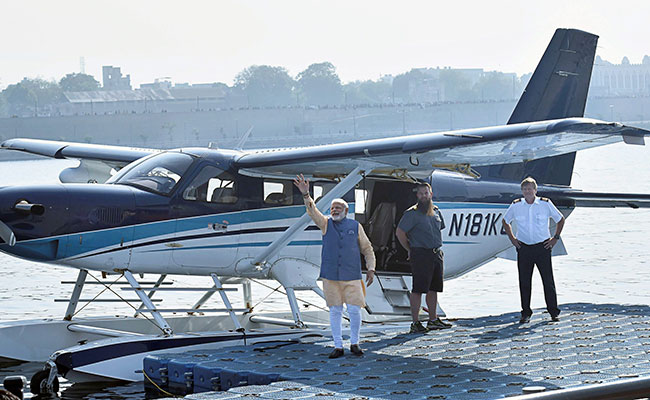 'Karachi' Detail Fuels More Buzz Over PM Modi's Seaplane Ride In Gujarat
New Delhi: The seaplane that turned into a spectacular ride for Prime Minister Narendra Modi on the last day of campaigning on Tuesday for the Gujarat election, came to India from Karachi on December 3 - a detail that was enough to stoke critics in the middle of a massive row over a dinner attended by Congress leaders and Pakistani guests last week.

According to flight-tracking website UK.Flightaware.com, the seaplane, a Quest Kodiak 100 operated by a foreign pilot, made a pit-stop at Karachi earlier this month. From there, it took off on December 3 and landed the same day in Mumbai, from where it flew to Ahmedabad on Monday.

The single-engine seaplane is reportedly privately-owned and has the US registration number N181KQ. John Goulet, the pilot who flew the seaplane, described his VIP rider as "a very good passenger".

PM Modi took off in the seaplane from the river Sabarmati and landed at the Dharoi Dam, about 180 km away.

The 35-minute ride, organised after the Prime Minister's roadshow in Ahmedabad was cancelled over police concerns, was fodder for the opposition, which alleged that security rules had been violated.

The security rule-book says the Prime Minister can only fly in twin or multi-engine aircraft.

Rahul Gandhi, the Congress's president-designate, called the seaplane ride "a distraction from key questions," adding that "the real question is what did you do for Gujarat in 22 years."

The Karachi detail drew comments on social media, which has been abuzz with acrimonious sparring over a dinner at suspended Congress leader Mani Shankar Aiyar's home, in which guests included former prime minister Manmohan Singh, other Congress leaders, and Pakistanis including former foreign minister Khurshid Mahmood Kasuri.

"& Why Was A #Seaplane That Travelled From Karachi Doing Rounds For Our PM @narendramodi Ji," was a tweet from the handle @INCTelangana

Shaktisinh Gohil was among the multiple Congress leaders who shared media reports on Twitter.

At a public rally in Gujarat on Sunday, PM Modi suggested that the election was discussed at Mr Aiyar's dinner, and hinted at a conspiracy between the Congress and Pakistan to defeat the BJP, which has ruled Gujarat for 22 years.

The PM's allegation has been rubbished as outrageous by the Congress and Manmohan Singh responded with an unusually cutting statement asking Mr Modi to apologise for "falsehoods and canards".