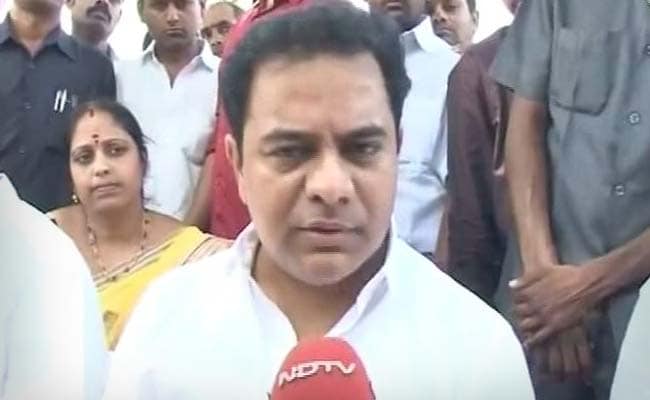 "Just One Party He Hasn't Allied With": KTR's Dig At Chandrababu Naidu
Hyderabad:
Taking a dig at Andhra Pradesh Chief Minister N Chandrababu Naidu, IT Minister KT Rama Rao in the caretaker government of Telangana highlighted that the Telugu Desam Party leader has never fought an election alone.
Mr Rao, son of TRS president and caretaker Chief Minister K Chandrasekhar Rao, quipped that Mr Naidu will go for an alliance even with the Yuvajana Sramika Rythu Congress Party (YSRCP) if needed.
"Chandrababu Naidu has never fought alone in the elections, the only party he was not in alliance with was YSRCP. He was in alliance with all the parties like Jana Sena, TRS, Bharatiya Janata Party (BJP), Communist Party of India (CPI), Communist Party of India (Marxist) (CPM), and the Congress. Now, only one party is left that is YSRCP. Today, I want to say that if needed Chief Minister Babu will also ally with YSRCP. We don't need Chief Minister Babu's certificate on the coming elections," he said during 'Meet the Press' programme on Thursday.
Mr Rao said his party would make efforts to strengthen the federal structure after the declaration of election results. "Our focus is on state politics till December 11. After 11th, we will start talking about our efforts to gather more like-minded parties across the country. We had already started earlier," he said.
He asserted that even before Andhra Pradesh Chief Minister N Chandrababu Naidu and others "woke up from sleep", it was the TRS president who started efforts to forge an alternative platform to the Congress and the Bharatiya Janata Party (BJP).
Congress and TDP have formed an alliance for the December 7 assembly elections in Telangana. Besides the two parties, the alliance comprises Telangana Jana Samiti (TJS) and CPI.
The Telangana Legislative Assembly Elections are scheduled to be held on December 7 to elect members from 119 constituencies. The counting of votes will take place on December 11.
(with additional inputs from agencies)