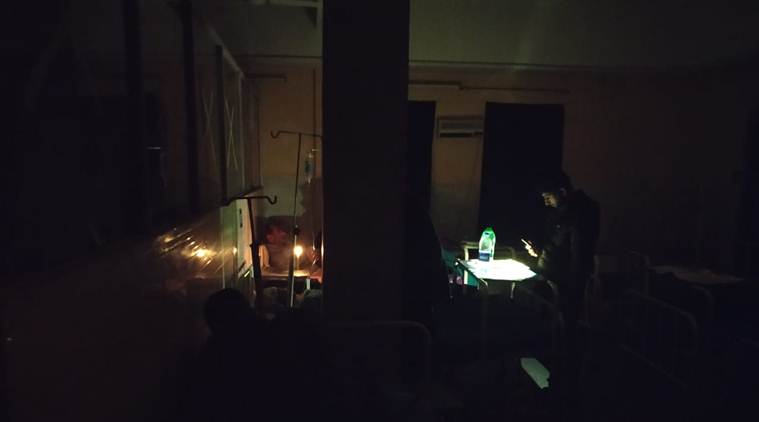 J&K: Snow hits power lines, large parts of Valley in darkness
As Srinagar and other parts of Kashmir received the season's first snowfall on Saturday, most of the Valley plunged into darkness.
The snowfall caused major damage to electric lines and almost all districts in Kashmir were without electricity, Chief Engineer, J&K Power Development Department Kashmir, Hashmat Qazi told The Sunday Express.
"If the weather remains dry, we will restore electricity in the Valley by Sunday afternoon," he said, adding that the priority was to restore power supply on essential lines.
A statement issued by the state government late Saturday evening said that Advisor to the J&K Governor, Khurshid Ahmed Ganai, has directed the Divisional Administration to restore road communication and power supply immediately without further loss of time. "The Advisor said he will monitor the situation on continuous basis and inform the Governor of the progress," it said.
As heavy snowfall began in Srinagar city on Saturday afternoon, the Srinagar-Jammu national highway was closed and air traffic was affected, officials said.
Police said they had rescued several hundred passengers at Jawahar Tunnel late evening. "#Qazigund Police rescues several hundred stranded passengers at #JawaharTunnel. Rescue operation is going on. Police rescue teams are on the job at #NHW," J&K Police said in a tweet.
Meanwhile, pictures of students writing their examination in candlelight went viral. The students were appearing for Class XII exams conducted by the J&K Board of School Education (BOSE) and Department of School Education in Kashmir on Friday. They wrote the papers using candlelight and mobile torches due to lack of lighting at various examination centres.
"There was no heating or lighting facility available at my exam centre. The teachers used the torch of mobiles, windows were opened at our centre," said Mehvish Jan, a student whose examination centre was at Nawakadal Higher Secondary School in Srinagar.
Another student said that many of them could not even read the question paper properly in the dark. "There was no heating arrangement and it was raining outside," said the student.
Asked for comments, JKBOSE Chairperson Veena Pandita refused to provide details and said, "I am busy with another important issue at the moment."
A senior education official admitted that some examination centres "lacked lighting facilities" on Friday. "We have made arrangements for the other papers and timings too have been changed. There was darkness due to the bad weather," said the official.
PTI adds: Srinagar witnessed snowfall in November for the first time since 2009, a met official said. The weatherman has forecast downpour over the next 24 hours, and a dry period of two to three weeks from November 5.