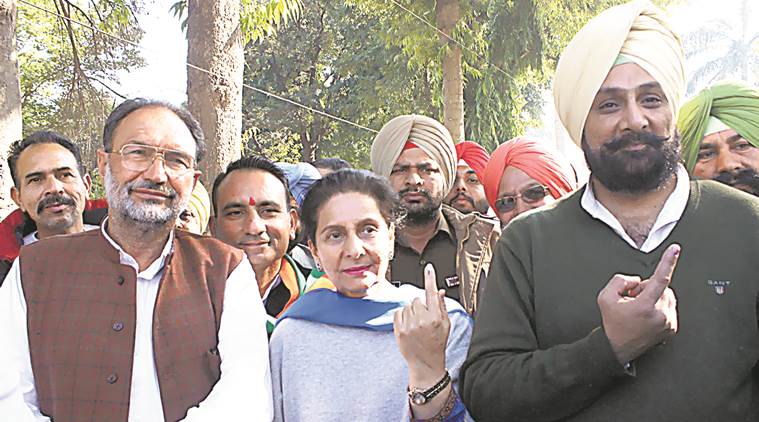 Jalandhar: Congress routs SAD-BJP after 10 years
Congress scripted a big win in Jalandhar Municipal Corporation (JMC) elections by winning 66 out of total 80 seats, while SAD-BJP suffered a major debacle with the alliance's tally being reduced to a dozen seats only. Aam Aadmi Party (AAP), which is main opposition party in Punjab Assembly, too was rejected in JMC elections, where 58 per cent votes were polled on Sunday. Congress also swept in two Municipal Committees (MCs) and two Nagar Panchayats of Jalandhar district, which recorded average 74 per cent polling.
Congress will now control the Municipal Corporation after a gap of 10 years. Except a case of EVM disruption and a minor incident in ward number 31, there was no major untoward incident that was reported during the entire voting process. The wives of two sitting Congress MLAs also won the election. Uma Beri, the wife of Congress MLA from Jalandhar Central, Rajinder Beri, and Sunita Rinku, wife of Congress MLA from Jalandhar West, Sushil Rinku, won from ward numbers 49 and 45, respectively. Also, leader of opposition in JMC Jagdish Raja and his wife, Anita Raja, won the elections. Raja won the election for the fourth time consecutively.
Former Councillor Kuldeep Singh Oberoi and his former Deputy Mayor wife, Arvinder Kaur, who contested independently after not getting SAD ticket this time, lost elections from ward number 50 and 51, respectively.
AAP had fielded only 43 candidates for the corporation polls, but not a single party candidate could register the victory. There were total 80 wards spread across four urban Assembly constituencies in the Jalandhar Municipal Corporation, which are represented by all sitting Congress MLAs.
In two Municipal Committee (MCs) and two Nagar Panchayats (NPs) elections in the district, Congress won 38 out of total 52 seats, while SAD-BJP were reduced to 10 seats and four seats won by Independent candidates. There were 13 each seats in each MCs and NPs.