India
In meeting with Amit Shah, Mamata reiterates: Don't want NRC in Bengal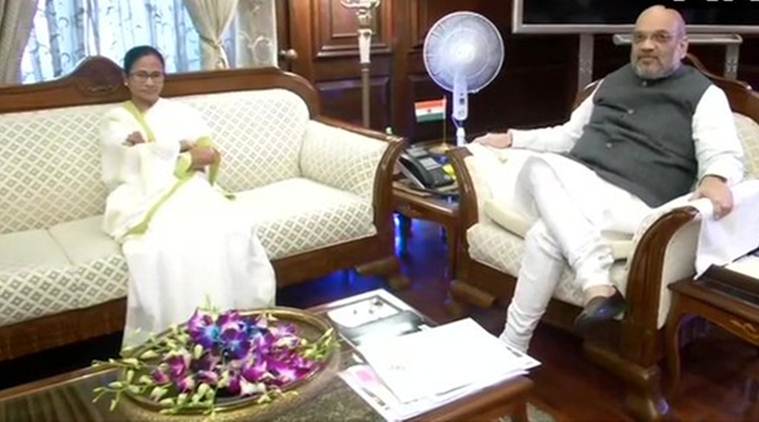 West Bengal CM Mamata Banerjee on Thursday raised the issue of exclusions in the National Register of Citizens (NRC) in Assam. She also said there was no need for NRC in Assam.
"We have handed over a letter where we have said that of the 19 lakh people who have been excluded in the NRC in Assam, there are many Bengali-speaking people. There are Hindi speaking as well, our Gurkha brothers and sisters are also there, some local Assamese too. We have said, whichever genuine voter has been left out should get an opportunity in a manner that they feel they are very much Indian. So we have discussed issues related to NRC, " Banerjee said.
বাংলায় এনআরসি দরকার নেই, আসাম নিয়েও আপত্তি আছে, শাহকে জানালেন মমতা 
When asked if the issue of NRC in Bengal was discussed she said, "The Home Minister said nothing about NRC in Bengal. Our stand is clear that there is no need for NRC in Bengal. Bihar CM Nitish Kumar has also said there is no need for NRC in his state. So we discussed issues related to Assam NRC only."
Banerjee's statement comes a day after Shah reiterated in Jharkhand that NRC would be implemented across the country and those not found genuine citizens would have to leave the country. Shah has earlier too made statements to this effect and even referred to these alleged foreigners as "termites".
Mamata's visit and discussion on NRC also comes in the backdrop of BJP being on the back foot both in Assam and Bengal over exclusion of a large number of Bengali speaking Hindus. TMC has already made it a political issue in Bengal and its stand is gaining traction on the ground. The BJP is on the defensive on the issue in the state.
Mamata said the NRC had created an issue of uncertainty In Assam and that Shah was receptive to her concerns.
"So whatever I spoke about (NRC in Assam) he (the home Minister ) listened carefully. He said he would look into it. So many people in Assam are facing uncertainty. Where to stay? Where to go? I told him about digital ration card lines. Lakhs of people have got in the queue because it has created a scare. So I told him our country is for all languages and for all kinds of people. So we must make sure that whoever is Indian is not disturbed. The home minister heard me carefully and I believe he will play a positive role."
Banerjee's mention of India being a land of all languages also comes days after home. minister pushed for promotion of Hindi across the country and suggested the idea of the entire country having one language.
Calling her meeting with the Home Minister, and the Prime Minister on Thursday, a "constitutional obligation" between the head of a state and the top brass at the centre, she said, "We are supposed to work together. In West Bengal there are many borders as well. Bangladesh border, Bhutan border and Nepal border. There is the northeastern gateway. Bengal has the chicken's neck. So it is a very important region. Then there is Bihar Odisha border. We spoke about all of that."
On the issue of the inauguration of the second-largest coal. block in Birbhum, Banerjee said, " As far the coal. block inauguration is concerned, I will be happy if the PM comes. We will take care of the relief and rehabilitation of people affected by it. We are of the soil, not of the sky."
She refused to comment on the issue of CBI pursuing West Bengal cadre IPS officer Rajeev Kumar saying the issue was. not discussed. Kumar is known to be close to Mamata and is under probe in the Saradha chit fund case.