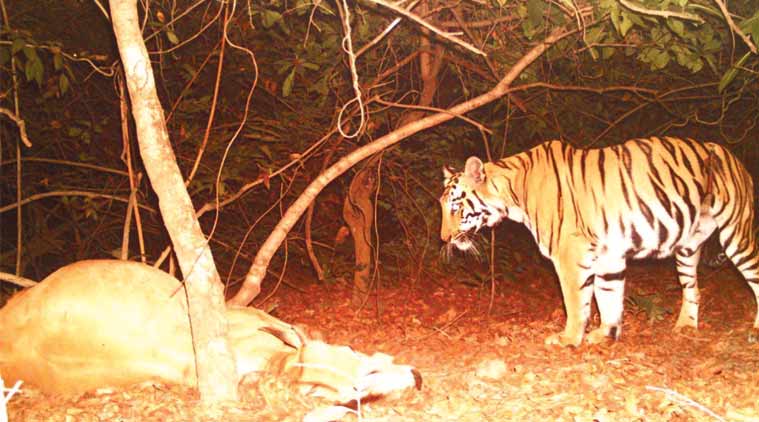 In Chennur, officials try to cage tigress to set it free
Forest officers in Telangana's Chennur forest area have been trying to trap a two-and-a-half-year old tigress which might have a snare trap wire knotted around its abdomen that may slowly kill it if not removed.
According to officials, the tigress, K4, got trapped in a snare set up by poachers to trap wild boar several months ago. While it managed to break free, the noose, made of two-wheeler clutch wire, got stuck around its abdomen, officials said, adding that as the tigress grows, the noose is tightening.
Telangana forest officials tried to trap it using baits in cages, but it did not fall for the trap. "K4 is not interested in a free meal. We tied a goat in a cage at one location and a pig at another. It came to check out the bait at both places, but did not fall for them. It preferred to hunt buffalo calf,'' Raja Rao, Forest Divisional Officer, Chennur Range, said.
"As the tigress is growing fast, the wire is tightening around it stomach and cutting in. I think the wire is already impeding its movement. We have to help it by removing that wire. However, some forest officers have raised doubts on whether a wire is actually stuck around its abdomen or it is only an injury mark of the wire which may have fallen off," Rao said.
A camera trap photo of March, the clearest so far, shows something wrapped around the tigress' lower abdomen.
Last week, Telangana Forest Department last week granted permission to tranquilise the tigress and get it checked.