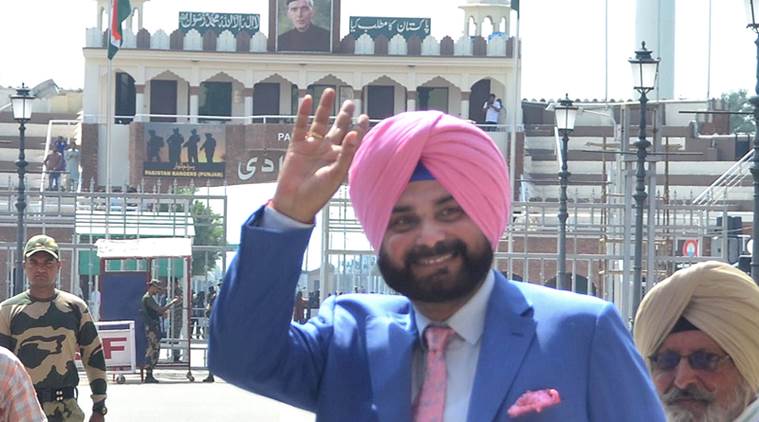 I have come as a friend: Navjot Singh Sidhu in Pak for Imran Khan's oath-taking ceremony
Going ahead with his decision to attend the oath-taking ceremony of Imran Khan as the Prime Minister of Pakistan, cricketer-turned-politician and Punjab minister Navjot Singh Sidhu reached the neighbouring country Friday, saying he has "not come here as a politician".
"I have come here as a friend, as goodwill messenger. I have brought a Kashmiri shawl as a gift for Khan. I love Kashmiri shawls and I have many. It is a symbol of love," he told Pakistani media after entering the country via the Attari-Wagah border. He has been criticised in some sections of media and politics in India for accepting the invitation by Khan.
Sidhu has released a press note back home to explain his decision: "The political change that has emerged after the recent general elections held in Pakistan is a historical event. I give my best wishes for the democratically-elected new government from the core of my heart. On this memorable moment, I especially congratulate Imran Khan on being elected as (the) Prime Minister of Pakistan. I know Khan for the last three-and-a-half decades and we have been meeting in different nations on cricketing field."
"I had been an ardent fan of the multi-talented Khan. In the field of cricket, he had been a great achiever and brought laurels not only for the game, but also to his country by winning the World Cup. He was a pioneer in his field. Apart from cricket, I was always impressed by the overall personality of Khan and this is the reason, during cricketing days, I always tried to stay close to him," said Sidhu.
He added, "It is just because of this pious friendship and strong bond that I have been invited by Khan to this all-important swearing-in ceremony. It is a matter of pride, happiness and satisfaction for me to be a part of this ceremony. I also entered the field of politics a few years ago. I always felt that through politics, I would be in a position to contribute towards my society and country. Today also I work as a politician with same target."
"The same way, Khan has great intent to do something for his nation and uplift the society," he added.
Start your day the best way
with the
Express Morning Briefing