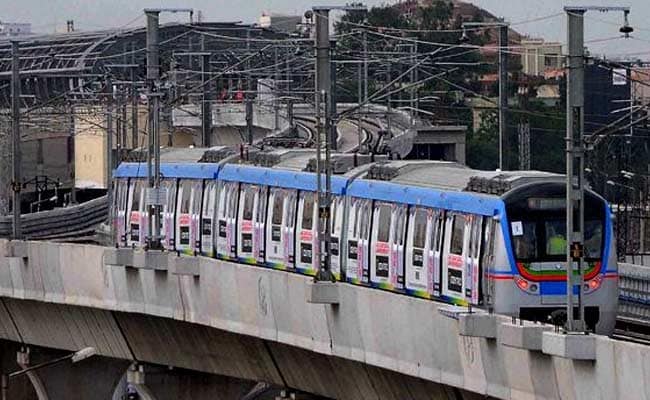 Hyderabad Metro Line From Ameerpet to LB Nagar To Open On Monday
Hyderabad:
Hyderabad Metro Rail services between Ameerpet to LB Nagar are all set to start from Monday, making the entire Corridor 1 phase operational.
The Commissioner for Metro Rail Safety has issued a safety certificate for passenger train operations on the 16-km stretch after testing and commissioning.
Governor of Andhra Pradesh and Telangana ESL Narasimhan will flag off the Metro train from Ameerpet station at 12pm on Monday.
"This is a 16-km stretch with 16 stations. With this, the entire 29-km of Corridor 1 from Miyapur to LB Nagar will be operational," Hyderabad Metro Rail Limited (HMRL) managing director NVS Reddy told PTI.
In November 2017, Prime Minister Narendra Modi inaugurated the 30-km Miyapur-Nagole stretch which is part of the 72-km long elevated Hyderabad Metro Rail project -- the world's largest public-private partnership project in the sector. There are 24 stations on the operational 30-km line.
"With its operations on Ameerpet to LB Nagar route, the Metro (stretch) will be 46 km, the second largest in the country, next only to Delhi," Reddy said.
The Ameerpet to Hi-Tec city line will be opened for public from December this year while services between Jubilee Bus Station and MGBS will be launched by mid-2019, Reddy added. The concessionaire L&T Metro Rail (Hyderabad) Limited is building the project across three corridors.
The HMRL is also developing a heritage precinct along with footpaths for pedestrian movement on a five-km stretch between Police Control Room and Rangamahal Junction -- covering five stations of Assembly, Nampally, Gandhi Bhavan, OMC and MGBS in Corridor-I.
A Metro security wing with over 2,000 personnel is also being set up, which includes armed components like Quick Response Team, Bomb Disposal Squad and a Dog Squad.
Skywalks are being built connecting stations directly to commercial complexes, stadiums and offices, officials had said earlier.
The Hyderabad Metro witnesses a footfall of around 85,000 passengers per day.
HMRL is the first 'transit oriented development' project that will exploit real estate and earn revenue by leasing out commercial and office spaces inside and outside metro stations across the city, officials had said.