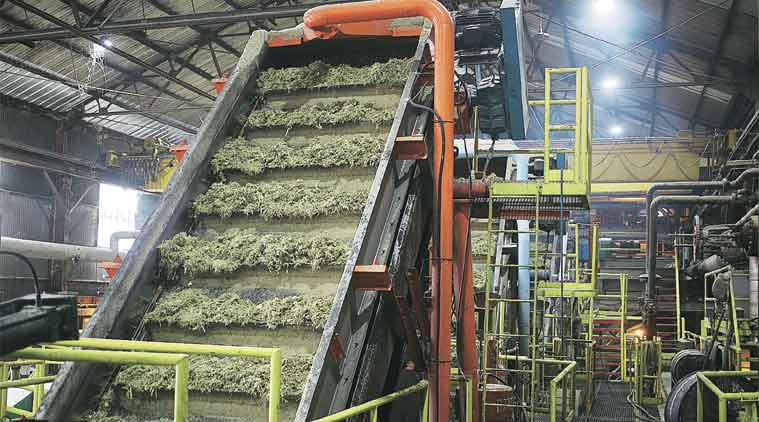 Haryana: Private mills fail to clear farmers' dues, cite sugar price fall to seek govt assistance
Amid the recent decline in sugar prices, Haryana's private sugar mills have failed to make cane price payments to the farmers on time. According to officials, the private sugar mills contribute almost 40% of the total sugar production in the state.
One among the largest sugar mills of India, Saraswati Sugar Mills Limited situated in Yamunanagar, in a recent letter to Haryana Cane Commissioner, sought financial support from the state government stating that "it was facing financial crisis following unexpected decline in sugar prices".
Another private mill, Naraingarh Sugar Mills Limited, has also approached the Cane Commissioner citing similar problems. Haryana Additional Cane Commissioner Jagdeep Singh Brar told The Indian Express on Monday that they have forwarded the request of both mills to the state government.
The state has one more private mill, Piccadily Agro Industries Ltd, in Bhadson (Karnal). Its Vice President (Cane), Karam Singh said, "We have already made payments till March 15. We are trying our best to make the payments but without financial assistance, we won't able to make regular payments in future." Apart from three private mills, the state has 11 cooperative mills too.
Speaking to The Indian Express on Monday, Haryana State Federation of Cooperative Sugar Mills Ltd chairman Chander Prakash Kathuria admitted that the private mills were not able to make payments to farmers on time but claimed cooperative mills were making payments on time.
However, Haryana BKU chief Gurnam Singh Chaduni said, "Many of the cooperative sugar mills are also not making cane payments to the farmers on time for the past few months. The government should help both private as well cooperative mills."
Saraswati mill's CEO S K Sachdeva, in his letter to the cane commissioner, said, "The unexpected decline in sugar prices has adversely affected our drawing power from banks and capacity to make cane price payments to the farmers during current crushing season resulting in discontinuation of cane price after 12th April, 2018… the financial constraints may also adversely affect our repair and maintenance schedule of the factory to make it operational in time for the ensuring crushing season 2018-19."
"As anticipated…due to higher production of sugar (both Haryana as well as all India), sugar prices have crashed. With the result, the cane price paying capacity has been affected adversely. Sugar prices which were about Rs 3675 per quintal during November, 2017 have reached at the level of Rs 2715 per quintal during the month of April, 2018 as such there is fall of about Rs 950 per quintal… In view of anticipated much higher production even during the next season 2018-19, the sugar prices are expected to further go down," he mentioned in the letter.
According to Sachdeva, the central government has approved financial assistance of Rs 5.5 per quintal of cane crushed during the current crushing season 2017-18 in order to help the sugar mills to clear cane price dues of farmers while the Fair & Remunerative Price (FRP) is Rs 255 per quintal of cane. This assistance shall be paid by the central government directly to the farmers. "On the similar lines, state government should also provide financial assistance/subsidy…," Sachdeva demanded in the letter.