India
Gujarat kin of worker who died of silicosis receives compensation of rs 5 7 lakh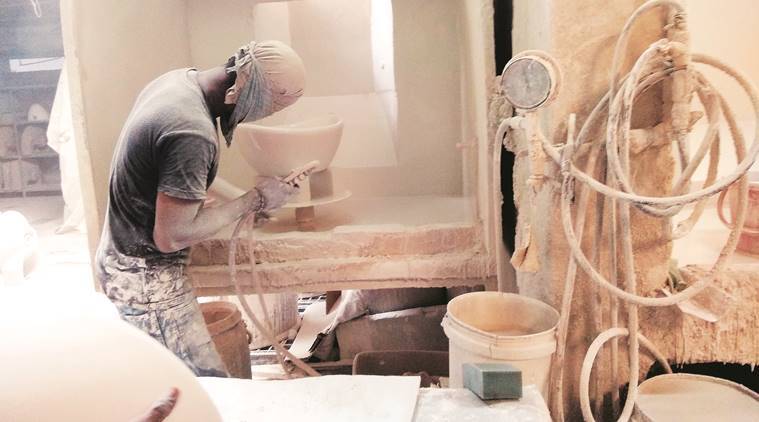 The Anand Labour Court has awarded a compensation of Rs 5.7 lakh — as well as a fine of Rs 5,000 on the employer — to the surviving heir of an agate worker, who died due to silicosis in 2011. The case, which went on for over eight years, is a first-of-its-kind filed by a worker from the unorganised agate industry.
The judgment of the Anand court on September 30 this year upheld the contention of worker Raju Parmar, who was 41 years old when he succumbed to silicosis. His employer, Kishore Bhil, will now have to compensate the family.
Parmar had filed a claim under the Employees Compensation Act for Silicosis, with help from the People's Training and Research Center (PTRC) in 2011. He had worked at a local agate cutting and polishing workshop for 19 years.
Jagdish Patel of PTRC said, "He was diagnosed with silicosis at our clinic in 2010 and then stopped working. In 2011, he filed the claim in Anand Labour Court and PTRC arranged the lawyer. In December 2011, Raju succumbed to the disease. His mother was then made his legal heir but she, too, died of silicosis after a few months. Two of his younger brothers were added as claimants and one of them, Prakash also died of silicosis. Fortunately, Ajit, the youngest one never worked as an agate worker. The Court ordered the employer to pay Rs 5,76,400 as compensation and a fine of Rs 5,000 towards expenses. This was the first such claim filed by any agate worker."
According to the judgment delivered by the court, the evidence that helped nail the case in Parmar's favour was a statement given by Bhil to the Khambat police in 2010, when Parmar had sought help from the district collector to "free himself" from bonded labour.
Patel said, "After being diagnosed with silicosis, Parmar had stopped working but he was in debt of about Rs 35,000, borrowed from Bhil during the course of his employment. When it became a matter of contention, Parmar had approached the collector to seek intervention and be freed from forceful employment to pay off the money. At that time, the collector had directed the police to look into the matter. A recorded statement of Bhil with the police station mentioned that Parmar was his employee for 19 years. It was a crucial piece of evidence, because the most difficult part of taking forward compensation cases for silicosis is being able to prove actual employment in the unorganised sector."
Patel hopes that the case will become a precedent for other agate workers, who are victims of silicosis in the absence of safety norms and protocols at local workshops.