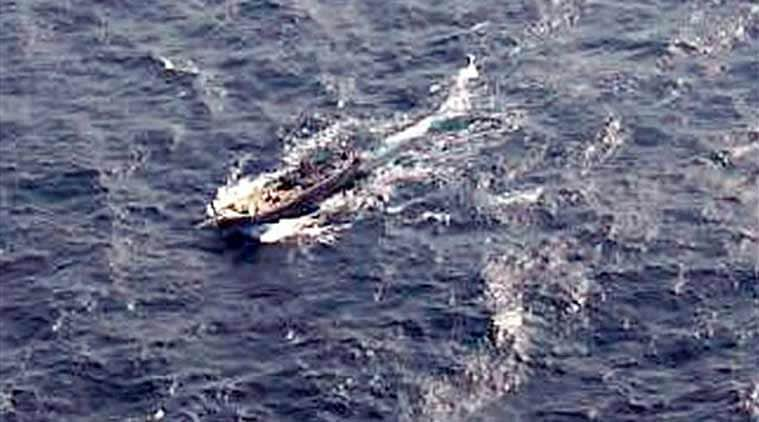 Gujarat: Indian Coast Guard apprehend nine Pakistani fishermen
Nine Pakistani fishermen on board a fishing boat were apprehended by Indian Coast Guard (ICG) after they allegedly crossed over to the Indian side of International Maritime Boundary Line (IMBL) in the Arabian Sea and were brought to Okha port in Devbhoomi Dwarka on Sunday. The arrests come a week after Pakistan released 26 Indian fishermen as a goodwill gesture before formation of new government in that country.
Officers sailing on board ICG ship Meera Behn apprehended fishermen from the neighbouring country after they were found fishing on the Indian side of the IMBL late on Saturday. "ICGS Meera Behn, a frontline fast patrol vessel of Indian Coast Guard Region (Northwest) while patrolling close to International Maritime Boundary Line (IMBL), noticed a Pakistani fishing boat towards Indian side at about 1855 hours on 18th August 2018. The alert crew of the ship on confirmation, exercised a daring boarding operation in challenging sea conditions and subsequently apprehended her for illegally fishing in Indian waters," an official release from Defence spokesperson in Gandhinagar said.
The Coast Guard said that the Pakistani boat was named Al Aisha and had nine fishermen on board. "All the crew and boat were escorted to Okha port and have been handed over to local Marine Police for further investigation," the spokesperson further said. The release further said that Coast Guard had been extra vigilant around the 72nd Independence Day of the country.
India and Pakistan have disputes over the alignment of IMBL in the Arabian Sea. But the dispute over the waterfront often leads to arrest of fishermen of one country by the security agencies of the other. A few hundred Indian fishermen are apprehended by Pakistan Marine Security Agency every year for alleged violation of their territorial waters. On the other hand, Indian Coast Guard arrest a few dozen Pakistani fishermen every year. These fishermen languish in jails of the other country, some time for years.
The arrest of Pakistani fishermen comes a few days after Pakistan repatriated a group of 26 Indian fishermen. These fishermen, from Gujarat and Union Territory of Diu, had been arrested by Pakistan for allegedly violating its territorial waters and had served jail terms ranging from 16 months to 24 months. They had been released on August 13, a day before the maiden meeting of the newly-elected Parliament in Pakistan.
Start your day the best way
with the
Express Morning Briefing