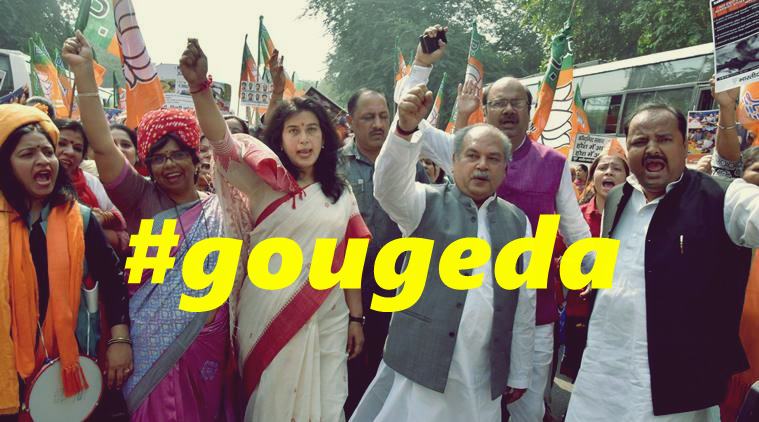 #GougeDa is Kerala's response to BJP leader Saroj Pandey's threat
After #pomonemodi and #pomoneshahji, a new viral hashtag on Twitter has emerged from Kerala. #GougeDa is Malayalis' response to BJP national general secretary Saroj Pandey issuing a threat that if the Left party continues to "show eyes" to BJP workers in Kerala, the latter would respond by "entering homes and gouging out those eyes".
Pandey, on the sidelines of an inauguration in Kumhari, had said, "Hum logon ne ye jo march ki shuruwat ki hai, hamaare rashtriya adhyaksh-ji ne ki hai, vo isliye ki hai ki aanewale samay mein agar baar baar hamaare karyakarta ke saath mein isi prakaar se aise aankh dikhaane ki stithi hogi, toh hum ghar mein ghus kar aankh nikal lenge. Yeh tay baat hai" (This march that we have started, that our national president has started, was to ensure that in future if our workers are shown eyes repeatedly, then it is certain that we will enter homes and gouge those eyes out).
Pandey's warning came as the party in Kerala gets ready to conclude its 'Jan Raksha Yatra' in Thiruvananthapuram on Tuesday against violence perpetrated by CPM workers in the state.
In response to the stern warning, Malayalis on Twitter are putting out photographs of themselves and popular actors wearing sunglasses with the hashtag #gougeda — basically telling the BJP that their plan to gouge their eyes will not work. In solidarity with the people of Kerala, folks from Tamil Nadu and Andhra Pradesh were also seen posting pictures.
Malayalis, on hearing that BJP neta wants to gouge their eyes:

"Vaadaa.. come on da.. #Gougeda " pic.twitter.com/o2naaLqI1M

— The Last Caveman (@CarDroidusMax) October 16, 2017
Come on da BJP ! #Gougeda pic.twitter.com/Nq0rVW15F1

— Akhil krishna???? (@Akhil777PR) October 17, 2017
Come On da BJP! #GougeDa
Keralites protest against @SarojPandeyBJP @ravishndtv @sardesairajdeep @Nidhi @dhanyarajendran pic.twitter.com/mQxwnIiSQW

— Saarika (@Saarika14) October 16, 2017
Hey BJP #Gougeda ???? pic.twitter.com/wZtZhkyEO9

— ???????? (@PostModernAsura) October 16, 2017
The #pomonemodi hashtag had gone viral after Prime Minister Narendra Modi compared the health indicators in Kerala to Somalia at an election rally in the state. Angry netizens in Kerala responded with the hashtag #pomonemodi – which is loosely translated to 'get lost Modi'. It is a phrase that was fashioned out of a popular film dialogue of Mohanlal in which he tells the villain to 'get lost'.
Taking the protest offline, CPM's youth organisation DYFI has organised a march in Kozhikode where participants will wear goggles to express their unhappiness at Saroj Pandey's statement.
© IE Online Media Services Pvt Ltd