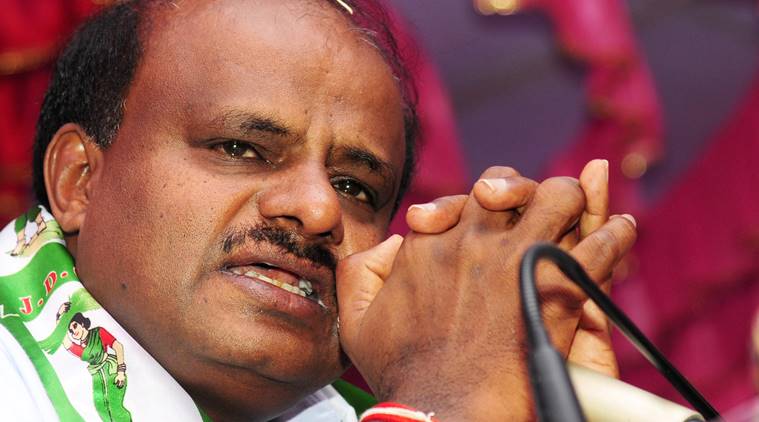 Got emotional at lack of recognition of work, not by Congress: Kumaraswamy
A lack of recognition by the public and the media for his efforts to improve public welfare in Karnataka, and not alleged harassment by the Congress party, his coalition partner of the last 55 days, made him cry at a party event on July 14, Chief Minister and Janata Dal (Secular) leader H D Kumaraswamy said on Tuesday.
In New Delhi to meet Central ministers and state MPs, Kumaraswamy on Tuesday stressed that he did not refer to the Congress party in any way in his July 14 speech.
"If you listen to the recording, you will see that I never referred to the Congress party as the source of my pain anywhere during the one-hour speech," he told the media in Delhi. "I never said the Congress, or its leaders, has been troubling me. I said that despite my best efforts to serve the people with outreach programmes such as waiver of farm loans, there is no encouragement for my efforts. That is what I said.''
Maintaining that he did not get emotional at any government event but at a party event, Kumaraswamy said, "The programme held in the party office was like a family event — I expressed my pains to my family. I am an emotional person…. Humanity is an integral part of my life, and I expressed some of my pain and cried."
He said, "The sadness I feel comes from the fact that people still doubt my commitment to the cause of the welfare of the people of the state. This was the background in which I got emotional. (But) the media has blown it out of proportion and made it a topic of discussion."
Kumaraswamy had stirred a controversy over the future of the JD(S)-Congress alliance in Karnataka by turning teary eyed and stating that he was not happy being the chief minister of the coalition during his address on Saturday.
"All of you are happy because your elder or younger brother has become the chief minister. But I am not happy. I am swallowing my own pain like a poison like Vishakanta (Lord Shiva, who drank poison to save the world)'' a teary-eyed Kumaraswamy had said at a meeting of JD(S) workers.
The speech was interpreted widely as an indirect reference to alleged interference in the running of the government by the Congress, which offered unconditional support of its 80 MLAs to enable the 38-member JD(S) form the government in the 224-member House.
Reacting to the speech, senior Congress leader Mallikarjun Kharge had said, "As the leader of the coalition government you have to face whatever problems you encounter. Kumaraswamy must be courageous."
In a Facebook post on Monday, Union Minister Arun Jaitley wrote: "India's Prime Minister and his Government has to overcome the challenges that India faces today. He cannot be seen like the Chief Minister of Karnataka as a tragedy king. If such a coalition is a cup of poison, why even dream of inflicting it on the nation?"