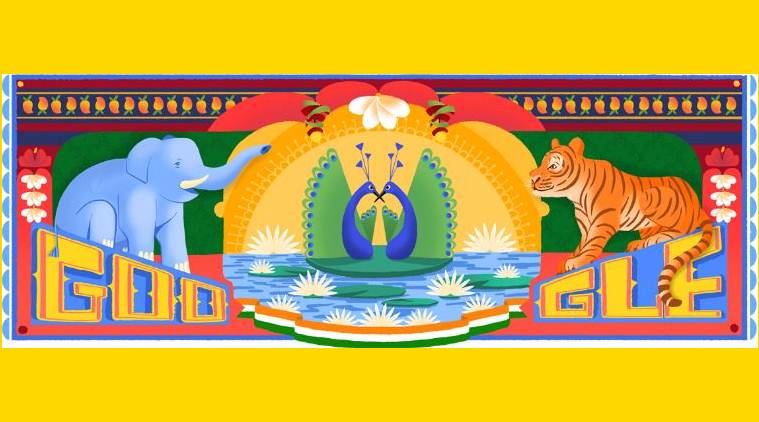 Google marks Independence Day with doodle inspired by India's truck art
Google on Wednesday marked the 72nd anniversary of India's Independence with a colourful and artistic doodle inspired by the nation's truck art. The doodle features a couple of peacocks crossing their beaks at the centre and the national birds are flanked on both sides by a Bengal tiger and an elephant. Other elements in the doodle comprise India's national flower, the lotus with the sun rising in the backdrop and a riot of colourful flowers.
Featuring images of some of India's iconic colourful plant life and mighty animals, Google mentioned that the doodle was a tribute to India's truck art. "A long-standing tradition in this four million square kilometre nation where truckers who live on the road surround themselves with cheerful folk art to occupy their minds during long months away from their families," the search engine said. Also known as Kitsch, the art form expresses feelings ironically or in a humorous way.
On this day in 1947, India became an autonomous state by breaking itself free from the clutches of the British rule and the country is celebrating its 72nd Independence Day today. Prime Minister Narendra Modi will address the nation from the ramparts of Red Fort on the occasion, his fifth speech after the BJP-led NDA came to power in 2014.
For the 72nd Independence Day celebrations, the Navy is the coordinating service. The Guard of Honour will be commanded by Commander PR Jagan Mohan of the Indian Navy. Viewers can watch the live telecast of the event on Doordarshan from 6.25 am on August 15. In a first-of-its-kind initiative, Prasar Bharati has partnered with Google and its video sharing platform YouTube to telecast the Independence Day programme live online.
Must Watch
Kerala island worries about floods destroying their link with the mainland

English Premier League 2018/19 Preview

Aishwarya Rai Bachchan Talks About Hollywood, Pay Parity & More

UE Wonderboom waterproof speakers at Rs 6,995, here's the first look
Start your day the best way
with the
Express Morning Briefing
© IE Online Media Services Pvt Ltd