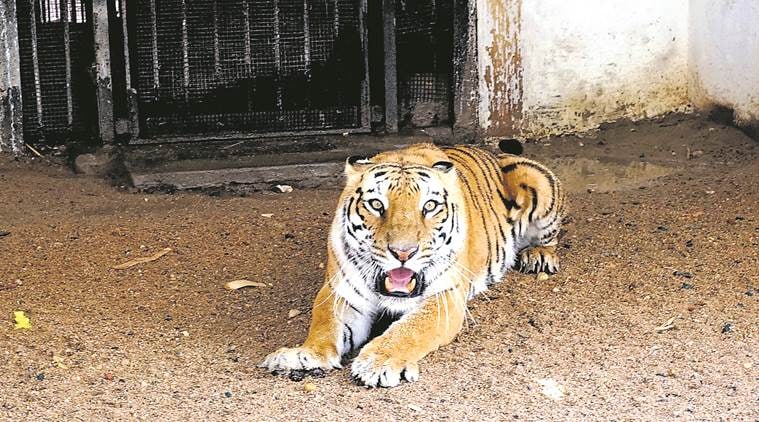 Forest officials capture tigress that killed two men in Wadsa forest division
Gadchiroli forest officials captured a problem tigress from Wadsa forest division on Saturday. The tigress had killed two men in the Wadsa forest area in April and May.
"We had been trying to capture it for the past more than a month. Ten days ago, it attacked another person. On Saturday evening, when she had come to feed on a cattle-kill near Mulur village, we managed to tranquilise it," said Deputy Conservator of Forest (Gadchiroli) Shivaji Fuley.
"The tigress, aged 3-4 years, has been caged and moved to a safe place," he added.
The tigress was being seen in the area along with a male over the past few months. "The male partner is harmless and has been keeping off the tigress for some time now, facilitating her capture," Fuley said.
As reported earlier by The Indian Express, after a long gap of over 25 years, Gadchiroli has been witnessing a comeback by tigers, thanks to the spillover population from the neighboring Brahmapuri division in Chandrapur district that is experiencing a saturation in a population of tigers since the past few years.
Forest officials had, a month ago, captured a problem tigress from Brahmapuri and later released her in Bor Wildlife Sanctuary. The tigress, however, was moving close to some villages in the northern part of the sanctuary and has killed a few goats and catttle, denting forest officials' hopes she would prefer staying in the core area of the sanctuary due to lack of human disturbance and abundant prey base.
"We will keep it under strict watch round the clock with help of radio collar. If she moves further north, it might come close to the national highway connecting Nagpur and Amravati. In that case, we will recapture it," said Principal Chief Conservator of Forest A K Mishra.
"On Saturday, however, the tigress started moving on the direction of Bor core area, which is a good sign," said Additional PCCF (Wildlife) Rambabu.