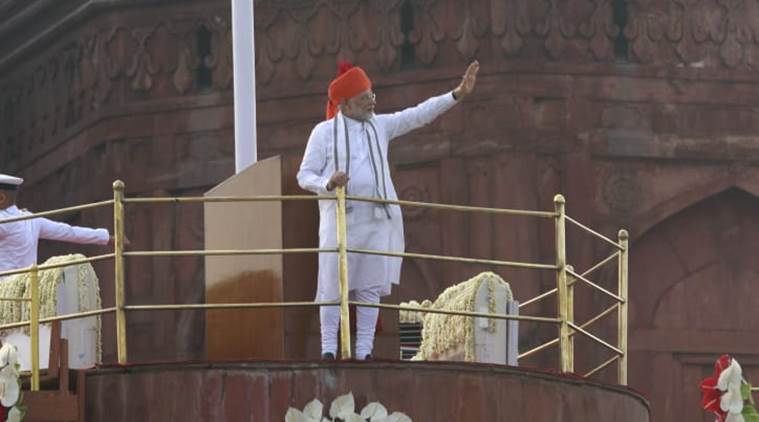 For women, in Modi's address: Vow to end triple talaq, warning to rapists
In his fifth Independence Day speech, Prime Minister Narendra Modi warned rapists of strictest punishment while assuring Muslim women of protection from triple talaq.
Modi said the capital punishment will prove a deterrent to the incidents of rapes in the country. He said cases in Madhya Pradesh in which rapists have been awarded the death penalty by a fast-track court should be widely publicised so as to instil fear in people with a "diabolic mindset" "The more the publicity, the more the fear it will instil in people with such a diabolic mindset."
He said the countrymen need to feel the pain million times more than the victim. "The rule of law is supreme, no one can take law in their hands," he said. Modi said he was striving to end instant triple talaq but underlined there were some people who do not want the practice to go away."The practice of triple talaq has caused great injustice to Muslim women. I promise them that I will work to ensure justice is done to them."
Modi also took pride in the achievements of women — from Parliament to sports — as he listed out the schemes launched for them in the last four years of his government He announced the Permanent Commission for Women, saying "this is my gift to the women of the country."
"Till now there was only the short commission for women. But now we have brought in the Permanent Commission for Women. Women will now be able to strengthen India along with their male counterparts."
At the beginning of his speech, Modi said India is proudly celebrating the six women Navy officers crew of INS Tarini who have completed the expedition to the South Pole, "Daughters from various states, Uttarakhand, Himachal, Manipur, Telangana and Andhra Pradesh, have gone across seven seas and coloured them in Indian colours. He also said he was proud of the fact that there are three women judges in the Supreme Court now. "Since independence, this is the first cabinet where so many women are a part of the cabinet," he said. While Justices Indu Malhotra and Indira Banerjee were recently elevated as judges of the Supreme Court, Justice R Banumathi was appointed in 2014.
Must Watch
Kerala island worries about floods destroying their link with the mainland

English Premier League 2018/19 Preview

Aishwarya Rai Bachchan Talks About Hollywood, Pay Parity & More

UE Wonderboom waterproof speakers at Rs 6,995, here's the first look
Start your day the best way
with the
Express Morning Briefing
© IE Online Media Services Pvt Ltd