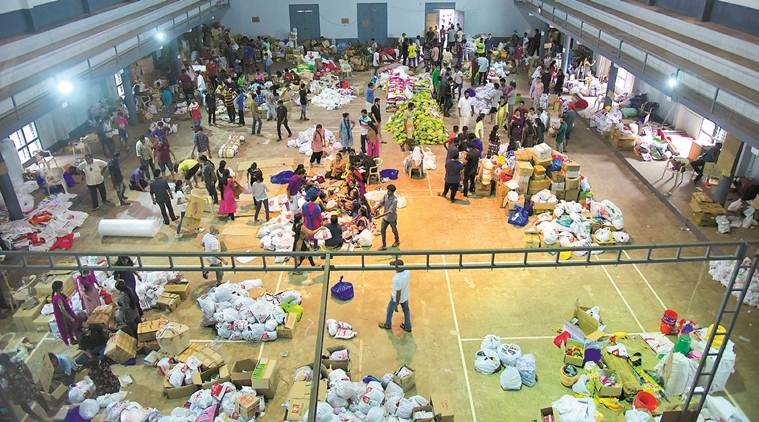 Faceless volunteers' untiring work to reach out to those in distress in flood-hit Kerala
Hundreds of faceless people running massive rescue and relief work in flood-hit Kerala will have to continue their work in the coming weeks as the state will have to be literally rebuilt from scratch.
One such team is a group of over 30 volunteers who took control of the Rescue Operation Centre at Ernakulam of the district disaster management authority.
In the last four days, the team, comprising journalists, lawyers and IT workers, managed several operations besides supplying food to over 30,000 people following distress calls they received on the 1077 helpline number.
They managed these operations with the help of hundreds of fishermen and also coordinated with several choppers through personal contacts in Air Force and NDRF.
The 30-member team eventually split into multiple teams as the volume of distress calls went up. "It was something we never anticipated," said one of the volunteers.
Harish Vasudevan, a Kerala High Court lawyer, said the team was split to handle the huge number of distress calls. "One group of nine attended calls and noted down details. Another team of nine engaged in data entry, while the others made calls and used social media to coordinate rescue efforts In several cases, we reached out to personal contacts," he said. As Aluva, Chalakkudi and Paravur areas witnessed massive flooding, the 30-member team connected to several WhatsApp groups with over 1200 volunteers in all, including celebrity radio jockeys to IT employees to lawyers to fishermen.
On Friday, when water entered areas that have never witnessed flooding, five new Whatsapp groups emerged to control the massive information inflow and address separately rescue, food, other materials supply and transportation to non-accessible places. These groups too connected with the 30-member team.
In time, the team was joined by people in Bengaluru and Chennai to get updates from official websites of central forces and Kerala government. "They checked reports on desktop computers as we had no system to get feedbacks or updates," said one of the volunteers.
This 30-member team was running operations till Saturday evening.
As thousands of SOS messages seeking immediate rescue flooded the hundreds of Whatsapp groups, popular news channels too opened helpline numbers to receive distress calls and share them with control rooms of state and central agencies.
READ | A step-by-step guide on how you can donate to the Kerala CM's relief fund
Among these control rooms are one in Chennai and another on CUSAT campus in Kochi. They were coordinated by Bhoomika Trust, which has been coordinating rescue and relief coordination since the Gujarat earthquake in 2001. Latha Subramanian, head of Bhoomika Trust, who is still running the call centres, said their volunteers have been working in shifts to compile information and share them with government agencies. The two helpline numbers were spread through the social media. "After a point, we had to prioritise medical emergencies and other emergency cases as it was beyond our hands to manage."
Start your day the best way
with the
Express Morning Briefing