India
Donald trump india visit live updates us president pm narendra modi agra ahmedabad delhi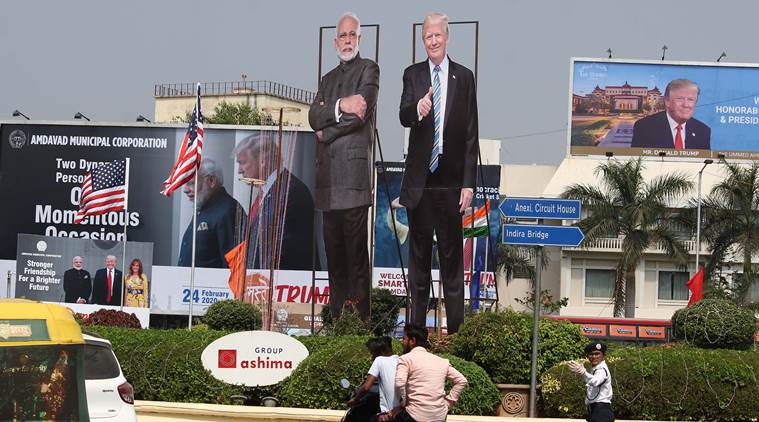 Ahead of the visit of US President Donald Trump to India on February 24 and 25, huge cut-outs of him and PM Modi are seen at a number of places in Ahmedabad. (Express photo Javed Raja)
Donald Trump India Visit LIVE Updates: Ivanka Trump, daughter and adviser to US President Donald Trump, Sunday said she is honoured to return to India to celebrate the 'grand friendship' between the world's two largest democracies which has 'never been stronger before'. Ivanka will accompany Trump and First Lady Melania on their two day India visit on February 24-25.
The Trump convoy is scheduled to land at Ahmedabad's Sardar Vallabhbhai Patel International Airport at 11:40 am, following which he will address the 'Namaste Trump' event at Motera stadium at 1 pm where he will be accompanied by Prime Minister Narendra Modi. Following the event, the US President will . Thereafter, he will travel to Delhi where he is expected to wrap up issues related to trade and defence.
Prime Minister Narendra Modi Sunday said India looks forward to welcoming Trump on his first India visit since assuming office.
Meanwhile, unprecedented security measures are in place in Delhi for Trump's visit. Besides the multi-layer security cover, elaborate arrangements have been made by the Delhi Police, including placement of double barricading on all the roads on which Trump's convoy is likely to pass, PTI reported, adding that aerial surveillance of the route will also be conducted as part of the security measures.