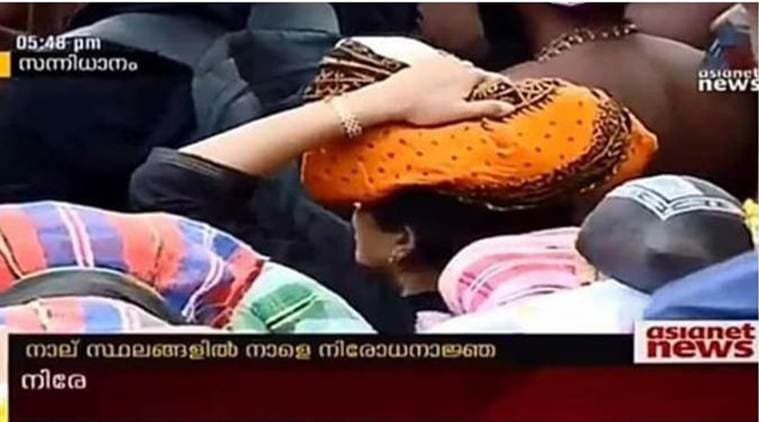 Did a woman enter Sabarimala? Social media abuzz with speculation
Even as protests against the Supreme Court verdict on the Sabarimala temple continue to simmer, the social media is buzzing over whether a young woman Ayyappa devotee entered the sannidhanam (temple complex) of the famed shrine after evading the prying eyes of protesters.
A television footage shown during the opening of iron gates has set off this debate on social media. Clad in a black attire, the woman was seen taking the 18 divine steps to the sanctum sanctorium. However, her identity and age have been not been ascertained yet. If proven, it will be a historic feat. The footage has gone viral on the social media, though no official statement on the development has come from the authorities. Read in Malayalam
Amid violent protests, the doors of Sabarimala temple opened Wednesday for the first time since the top court lifted the centuries-old ban on entry of women of menstrual age but by available indications none from this age group made it to the famed hill top shrine. Women journalists were heckled, their vehicles smashed and young female devotees turned back as hordes of activists of Hindu fringe groups besieged the road leading to the temple, abode to Lord Ayyappa.
Simmering tension prevailing in Nilackal since morning erupted into raucous rowdyism as scores of activists of fringe groups heckled women journalists of at least four national TV channels and vandalised their vehicles.
Unfazed by the unfolding violence, Madhavi, a gutsy woman from Andhra Pradesh in her 40s, tried to trek the Sabarimala hills to reach the Lord Ayyappa temple but was forced to return to Pamba, menaced by agitated male devotees.
Liby, a woman from Kerala's Alappuzha, also in the 10-50 year age group, was prevented from proceeding to Sabarimala at Pathanamthitta bus terminal. She was escorted to safety by police.