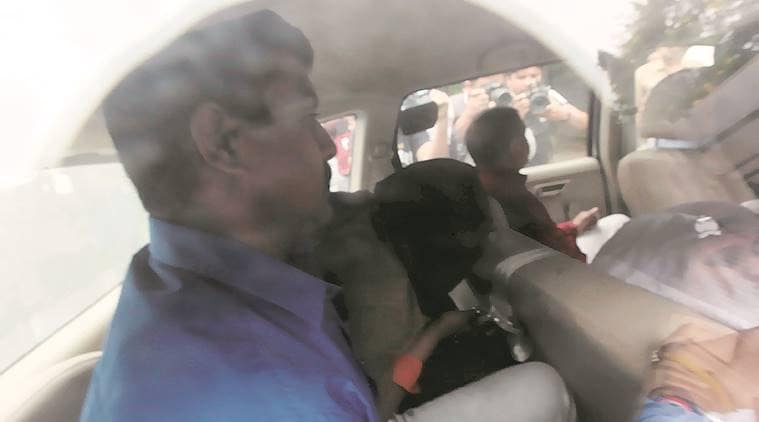 Dabholkar murder case: Andure, Tawde hatched murder conspiracy, says CBI
THE Central Bureau of Investigation (CBI) on Sunday told a court in Pune that Sachin Andure (28) of Aurangabad, alleged by the agency to be one of the two shooters who killed rationalist Dr Narendra Dabholkar, not only hatched the murder conspiracy along with Sanatan Sanstha member Dr Virendra Tawde, but also received firearms training at various places in Maharashtra and Karnataka.
Andure, who was arrested by the CBI on Saturday in Pune, was produced before the court on Sunday and remanded in the agency's custody till August 26.
The defence lawyer, while opposing the plea for Andure's CBI custody, argued that a chargesheet filed by the agency in 2016 against Tawde had named Sarang Akolkar and Vinay Pawar as the two shooters. The defence lawyer also said the CBI made Andure sign on nine documents, contents of which were not shown to the accused.
Arguing for Andure's CBI custody in the court of Judicial Magistrate First Class A S Mujumdar, Public Prosecutor Vijaykumar Dhakne said, "Andure has received weapons training in Maharashtra and Karnataka before executing the killing of Dr Dabholkar. The CBI needs to investigate who provided infrastructure to the assailants. The weapon and vehicle used in the crime are yet to be recovered."
When the judge asked CBI officials to put forward their stand, SP Nandkumar Nair of the Special Crime Branch, Mumbai, told the court, "The accused has hatched the conspiracy of the murder along with Dr Virendrasinh Tawde. We request for his custody to probe the larger conspiracy."
Speaking about Andure, a CBI officer said, "We have reasons to be believe that Andure is linked to the Sanatan Sanstha."
Andure, sources have said, was arrested on the basis of information received from Maharashtra ATS which last week arrested three people for allegedly planning to carry out attacks in the state.
Defence lawyer Prakash Salsingikar said in court, "The CBI in its chargesheet against Virendrasingh Tawde filed in 2016 has said that it was Sarang Akolkar and Vinay Pawar who shot Dabholkar dead. This chargesheet must be brought on record."
A senior CBI official claimed, "Please read the chargesheet. We have never said Pawar and Akolkar were shooters, but that persons looking like them are suspected to be behind the killing. So there is no contradiction in our theory."
But, the chargesheet filed against Tawde on September 8, 2016, which was accessed by The Indian Express, the CBI stated, "…Vinay Pawar and Sarang Akolkar shot dead Dr. Dabholkar on August 20, 2013 at about 7.25 am at Pune."
Andure's brother Praveen said after the hearing that the CBI had framed his brother and that he was innocent.
Start your day the best way
with the
Express Morning Briefing