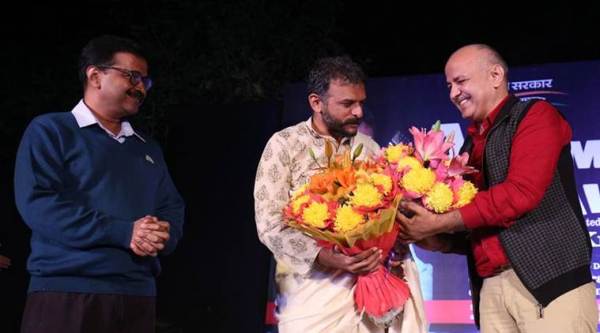 Curiosity, coincidence and love of Carnatic music draw over 1,000 to T M Krishna concert
A young couple lazing around, another talking in furtive tones. A family of four from Faridabad soaking in the late autumn sun, peeling oranges. It is around 5 pm on Saturday and the crowd at the Garden of Five Senses does not look bothered about sending any specific message.
A few workers are busy unrolling a red carpet, from the entrance of the garden to the lawns, where a stage has been set up. "Meri ek picture le le red carpet pe," a young woman tells her partner, who obliges.
Thirty minutes later, a large group of policemen arrives, carrying metal detectors, along with a bomb detection squad. The buzz around the stage goes up a notch. By then, a huge banner carrying the images of vocalist TM Krishna and Delhi Deputy Chief Minister Manish Sisodia has come to form the backdrop of the stage. It gets people curious, including the father in the family of four, who Googles 'TM Krishna'. In the next few minutes, the family has occupied the chairs at the back. Next in line is a mother-son duo from Noida, Prahlad and Sujatha.
"My mother is a follower of Carnatic music. We are not here to send out any statement, but we did come to know about the event because it hit the news in such a manner. And yes, I believe in complete freedom of expression," Prahlad, a student of Amity University, says.
Julien Segard, a French artist who has been living in Delhi for eight years, is excited for a chance to see such a concert live. "A friend told me yesterday and I have been wanting to attend more concerts as I enjoy Indian classical music. Unfortunately, I listen to it mostly on the internet."
Around 6.15 pm, the crowd is spilling on to the tracks running along the lawn. Social activists, environmentalists, retired judges can be seen mingling. Among those present are Justice (retd) AP Shah, RTI pioneer Aruna Roy, environmentalist Sunita Narain, CPI(M) general secretary Sitaram Yechury, senior lawyer Indira Jaising, Professor Zoya Hasan and scientist Gauhar Raza.
"We are here for a quiet evening of pure, divine music," says an elderly man in the crowd.
Ashokan, who runs a cultural centre, Swarnalaya, echoes the sentiment. "I count Krishna among the top singers of all time. He is an asset to Carnatic music. One may disagree with his political views, but music stands for unity," he says.
"What do we do now? More people than expected have turned up?" an official of the Sahitya Kala Akademi asks a senior police official. Immediately, orders are given to send more chairs inside.
Chief Minister Arvind Kejriwal and Sisodia arrive around 6.45 pm to an applause from the crowd.
"Your presence here sends out a statement, that the country belongs to everyone, be it Hindus, Muslims, Christians, Sikhs, Tamils, Malayalees," says the CM. In the crowd, the excitement is palpable. "Krishna govardhan sar pe uthayega. Khatam baat," says M K Raina, waiting for the music to begin.