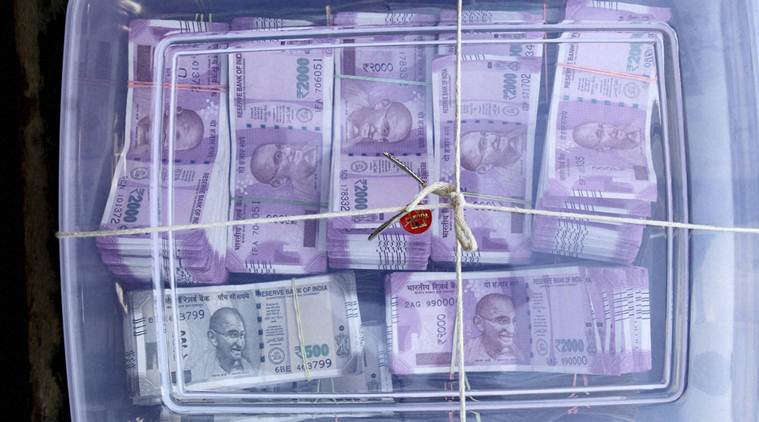 Contractor 'close to ministers', aides raided in Chennai; Rs 170 cr cash seized
Unaccounted cash amounting to Rs 170 crore and over 105 kg gold were seized in a raid on premises of a high-profile road contractor in Tamil Nadu, according to the Income Tax (I-T) Department.
According to sources, the raid started on Monday and continued on Tuesday on at least 20 locations associated with Nagarajan Seyyadurai, the promoter of SPK and Co, a leading company engaged in civil, road and highways construction projects in the state.
A statement from I-T Department said many "incriminating" documents and hard disks were seized. Nagarajan had allegedly kept Rs 24 lakh at home and "parked the remaining cash and gold" at 10 different places of his employees and associates, including in two BMW cars, the department stated.
According to the statement, Nagarajan had admitted the undisclosed assets and explained the modus operandi of generation and acquisition of these unaccounted assets by inflating his sub-contract expenses and labour payments with the help of "accommodating" sub-contractors and labour contractors. "The main sub-contractors, the chartered accountant and the jeweller who had converted his unaccounted cash into gold were also searched," the statement said.
A senior I-T officer said Nagarajan was a regular visitor to the state Secretariat and wielded influence in political circles. "He used to visit at least three ministers on a regular basis and was very close to the son of a top politician who has interests in state road and highway projects," the officer said. "We are probing their roles and evidence for transactions made in pen drives and hard disks seized during the raid."
The Highways portfolio is handled by Chief Minister Edappadi K Palaniswami.
Senior state minister D Jayakumar said the contractor was raided for tax evasion. He said Nagarajan also took contracts during the government of late J Jayalalithaa, and the DMK.
"Otherwise, there is no connection between this government and the contractor…. It is unfortunate to link the office of the CM with this. Let the (I-T) department decide whether he paid tax or not," Jayakumar said.
In a state that has seen many high-profile I-T raids since December 2016, Nagarajan's SPK and Co is the latest in the list. It comes hardly a week after raids on a leading trader supplying eggs and meals to state's social welfare schemes.