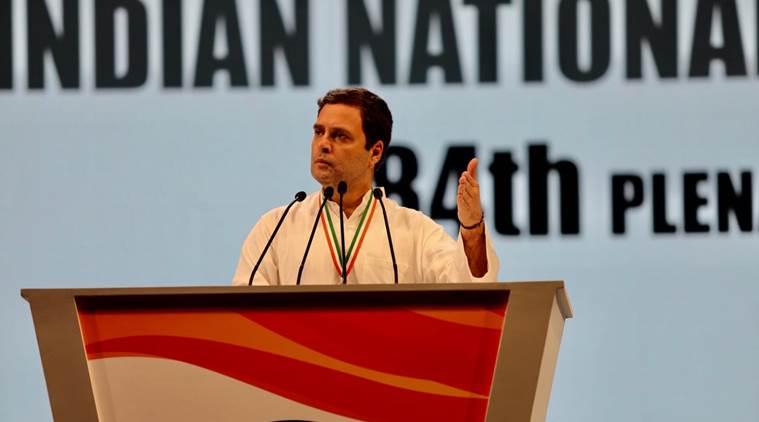 Congress plenary session LIVE UPDATES: Nobody can stop Rahul Gandhi from becoming Prime Minister in 2019, says Siddaramaiah
Congress Party president Rahul Gandhi in his inaugural speech as part of the Congress party's plenary session at the Indira Gandhi Indoor stadium in New Delhi today said that only Congress can unite a 'divided nation'. He added "Only Congress can show the way for this nation. This country belongs to all irrespective of which religion caste community one belongs to. We will work for all."
The meet was attended by Congress chief ministers, state Congress presidents and Congress legislature party leaders from all states. Former prime minister Manmohan Singh and former party president Sonia Gandhi were also present.
During the session, the party is also likely to discuss and adopt two resolutions, one political and the other on jobs and poverty alleviation. Party leaders will also draft resolutions which will be adopted at the conclave over the next two days. The Congress Working Committee members will be picked by the party president on the concluding day of the meet.
The session will ratify Rahul's appointment as the Congress president on Sunday. The Congress' three-day plenary session commenced at the Constitution Club in New Delhi on Friday. The focus of the conclave is primarily to prepare for the 2019 Lok Sabha elections.
 Eye on 2019 challenge, Congress meets for plenary session; draft resolutions finalised
Congress' plenary this weekend comes in the wake of significant political developments, including efforts by regional parties to meet on a common platform and counter the BJP.
Follow Indian National Congress 84th Plenary Session LIVE UPDATES here
© IE Online Media Services Pvt Ltd