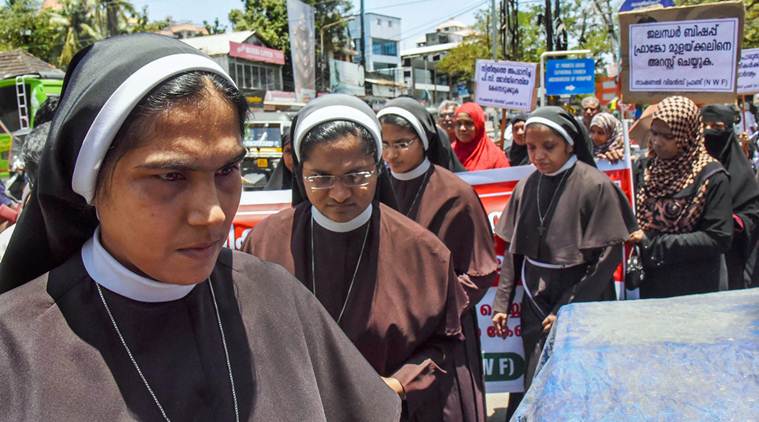 Bishop Franco Mulakkal, accused of rape, summoned before investigation team in Kerala on September 19
After a high-level meeting in Kochi over the probe into the alleged rape of a nun by Catholic Bishop of Jalandhar Franco Mulakkal, a top police officer confirmed that the accused has been summoned to appear before the investigation team in Kerala on September 19.
"There are a lot of contradictions in the investigation right now. Unless these contradictions are ironed out, filing the charge-sheet would be difficult. It will only go on to help the accused. So we are in the process of clearing these contradictions. The accused Bishop Franco Mulakkal has been sent a notice to appear before the investigation team on September 19. He will be questioned by a team led by Vaikkom Dy SP K Subhash," Ernakulam Range IG Vijay Sakhare told reporters on Wednesday.
"The case is very old and it is very difficult to gather scientific and technical evidence," he added, refusing to state whether the Bishop would be arrested after the questioning next week.
An FIR was registered against the Bishop on June 28 after a nun belonging to the Catholic order of the Missionaries of Jesus alleged in a police complaint that he raped and subjected her to unnatural sex 13 times since 2014. She claimed that despite complaints being forwarded to Delhi Archbishop Anil Couto and George Alencherry, head of the Kochi-based Syro-Malabar Church, the clergy did nothing on it. Bishop Mulakkal has denied the charges repeatedly, claiming that the rape complaint against him is a sign of revenge against him for taking action against the victim over some complaints within the church.
"I had recommended an action against her in November 2016 as we had some complaints against her, and in Chruch's policy we cannot cover up and one has to face the action for going against the church's policy," the bishop told the Indian Express.
There has been heavy public criticism of the police's alleged laxatives in approaching the case and arresting the accused. The bishop was questioned for several hours by a police team in Jalandhar on August 14, but was never formally arrested. Meanwhile, near the High Court in Kochi, an indefinite protest initiated by five nuns of the Missionaries of Jesus order entered its fifth day on Wednesday. The protest has attracted support from several quarters of the society.
Start your day the best way
with the
Express Morning Briefing
© IE Online Media Services Pvt Ltd